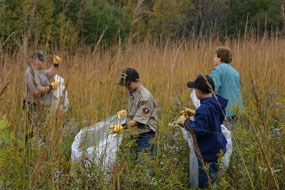 Inventory and monitoring (I&M) builds a strong scientific foundation for the management and protection of natural resources in national park areas.
Effigy Mounds National Monument is a member of the Heartland Inventory and Monitoring Network, fifteen parks in the Midwest that share resources and professional expertise to inventory and monitor natural resources.
To verify records of which plants and animals live in the parks, teams of scientists from parks and universities inventory plants, mammals, birds, fish, and reptiles. Park managers use this data to monitor the vital signs--measurable, early warning signals of significant changes--to assess the long-term health of natural systems.