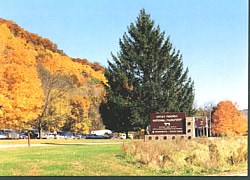 The monument visitor center is located on a terrace formed thousands of years ago. These terraces likely contained a large stand of black walnut trees when mounds were constructed here 2000 years ago. Some large walnut trees can be found today at the base of the bluff near the visitor center, along the bluff near Hanging Rock and in the Yellow River Valley in the Heritage Addition.
Along the base of the bluffs, where the wetland landscape merges with the uplands, the transition from floodplain forest gives way to the upland forest. The wooded hills consist of a mix of hardwoods such as oak, maple, hickory and basswood. The white oak grows on ridgetops in drier sites. The acorns provide food for deer, turkeys, squirrels, woodpeckers, and mice. Long ago, early American Indians used the acorns to make a rich flour. Red oak trees grow on slopes with moist soil and can reach impressive sizes. Black oak grow along the bluff edge while chinquapin oak can be found among the limestone outcroppings. The shagbark hickory, bitternut hickory, Kentucky coffee tree round out the species in the uplands.
Prior to the monument being established, the uplands where logged extensively. After fifty years, maturing stands of trembling and large toothed aspen mark the locations where the woods had been cleared. Today, sugar maple and basswood are replacing the aspen in the process of plant succession. The diversity of trees and shrubs found in the oak-hickory forest provide cover, food and shelter for many of the woodland residents.