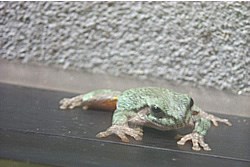 Effigy Mounds' abundant wetlands are habitat for a chorus of amphibians. In early spring, the chirping of various frog species arises from the ponds and marshes as they begin their courtship ritual. Leopard, pickerel, green and western chorus frogs, along with spring peepers lend their voice to the fray. In nearby woods, the common gray treefrog can also be heard.
The central newt is a silent inhabitant of the monument's floodplain forests. Just like frogs, it requires ponds or other semi-permanent water bodies to lay its eggs in during the early spring months. Fish are known predators of newt eggs; therefore, fishless ponds or ephemeral (semi-permanent) ponds where fish cannot survive are ideal habitat. It is a rare member of the amphibian group - it is listed as a threatened species in Iowa.
Amphibians are sensitive to changes in water quality because they require water to complete part of their life cycle. Habitat degradation is a common reason for the decline in amphibian numbers across the Midwest. Local populations are vulnerable to human crises such as chemical or pesticide spills or misuse.