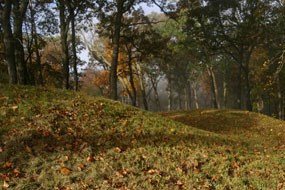 Effigy Mounds National Monument was established by Proclamation on October 25, 1949, by President Harry S. Truman to protect significant prehistoric earth mounds found in northeast Iowa and to protect wildlife, scenic, and other natural values of the area.


- Presidential Proclamation No. 2860, Oct. 25, 1949, 64th Statutes at Large, 81st Congress 2d Session, 64 part 2:A371
Rules and regulations
A selection of parks rules and regulations is below. The complete rules and regulations of Effigy Mounds National Monument are contained in two documents:
In addition, regulations pertaining specifically to Effigy Mounds National Monument contained in the
Violators are brought before the U.S. District Courts and are punishable by fine and/or imprisonment.
Alcohol
The consumption of alcoholic beverages or the possession of an open container of an alcoholic beverage is prohibited in the following areas: Inside the Visitor Center and within 100 feet of all Mound Groups.
Collecting
All natural, cultural, and archeological resources are protected and may not be removed or disturbed.
*Small amounts of berries, seeds and nuts may be gathered for immediate personal consumption within the park, but nothing can be removed from the park.
Relic hunting is prohibited. Possession of a metal detector in the park is unlawful.

Firearms and other weapons
Legislation: As of February 22, 2010, a new federal law allows people who can legally possess firearms under applicable federal, state, and local laws to legally possess firearms in this park. Refer to Section 512 of the Credit Card Accountability Responsibility and Disclosure Act of 2009, Public Law 111-24, 123 Stat. 1764-65.