Emma Big Bear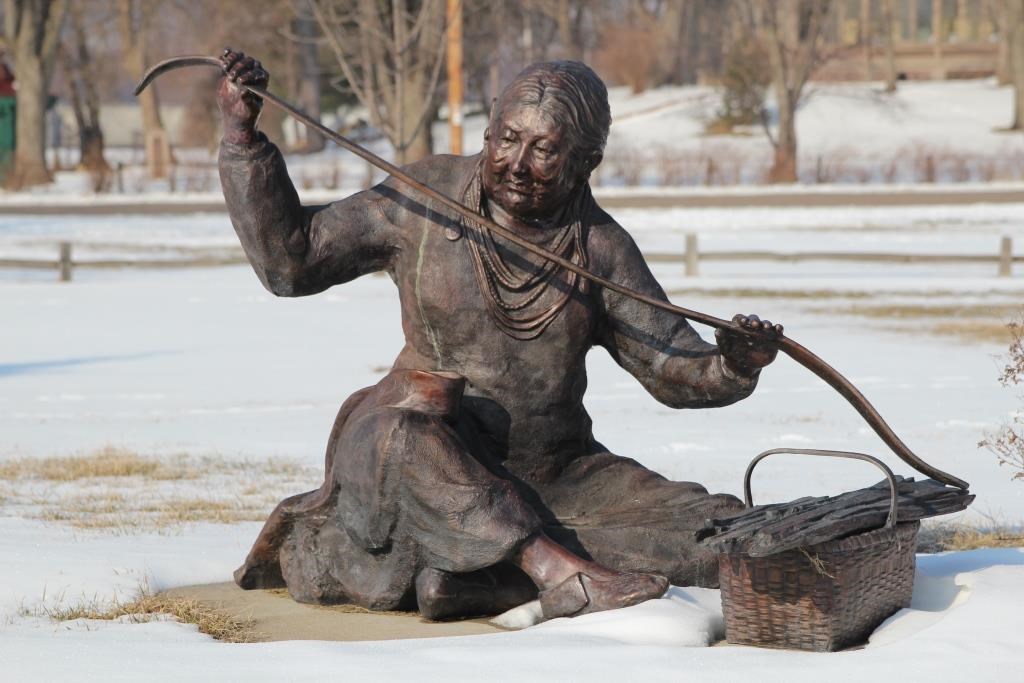 Emma Big Bear Holt (1869-1968) is known in northeast Iowa for two reasons; as one of the last Ho-Chunk (Winnebago) living a traditional Ho-Chunk lifestyle in northeast Iowa and the handcrafted baskets she sold.
Time has been kind to the memory of Emma Big Bear. Through the eyes of early 20th century locals, her way of life stood out in sharp contrast to theirs. She chose to live closer to nature by building a wickiup for winters and living in a tent in the summers near Waukon Junction, three miles north of Effigy Mounds National Monument. After her husband and daughter passed away, she moved south to McGregor, a small river town, where she built another wickiup near the Mississippi River, which would occasionally flood during the spring. Only in her old age did she live in a small house in Marquette, Iowa, another small river town south of the monument. Although she wasn't born in northeast Iowa, she called it home for many years. She had family in Nebraska and Wisconsin, but chose to live in northeast Iowa, and specifically around what is now Effigy Mounds National Monument. She and her husband, Henry, lived off the land and had an intimate knowledge of the plants and animals in this landscape. With this knowledge of the landscape that both Emma and Henry had, the mounds along the Mississippi River would not have gone unnoticed, and may be the reason she decided to live in this region. Mound building is part of the Ho-Chunk tradition and has been passed down in traditions and stories. During their lifetime, many mound groups were destroyed by expanding farm fields and towns. It is likely that Emma and her family may have witnessed the destruction of some of these mounds, but we will never know how it would have impacted them.
The legacy of Emma Big Bear is twofold: the local people who still remember their interactions with Emma, and the tangible legacy of the baskets she made and sold. Emma's husband, Henry, would help prepare the logs of the Black Ash tree for her to use. They would select the logs that were straightest and without any knots, peel the bark back and pound the wood with a hammer to loosen up the layers, and then thin strips could be cut from the pounded wood. The thin strips would then be trimmed to the right proportions for baskets. She would sell her baskets to locals and tourists that visited McGregor and Marquette during the summer.

Emma Big Bear's baskets have now become collector pieces; recognized today as very much the works of an American Indian artisan. They follow traditional Ho-Chunk baskets found in Wisconsin, but there are three ways to identify a basket made by Emma. First, they were made in a counter-clockwise rotation;opposite of most baskets which identifies Emma as left handed. Second, for many of her earlier baskets she used natural materials for dyes that fade more easily in light than synthetic dyes, but the vibrancy of the original color may still be seen on the inside of baskets that were not exposed to as much light. Thirdly, Emma's handles are exceptionally well balanced, highlighting the skill she had mastered. Emma Big Bear and her baskets are synonymous with history hidden in the bluffs of northeast Iowa.
It is clear to us now that Emma was a special person. She is remembered as an independent spirit who chose to live the life she wanted, a way of life of her ancestors that was very different from everyone around her. Emma chose to live and raise her daughter in northeast Iowa, surrounded by the things and people she loved. She has left an unforgettable mark upon the people and history of the local area.
For information on the preservation and promotion of American Indian Arts and Crafts, visit the website for the
Indian Arts & Crafts Board
.
Last updated: July 27, 2021