Plan A Field Trip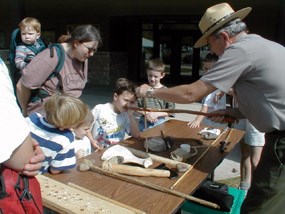 A visit to Effigy Mounds National Monument can have many benefits. Activities can be curriculum based and designed to meet your specific needs. Programs based on the American Indian mounds feature two-mile round trip hikes highlighted by visits to bear-shaped effigy mounds. There are plenty of opportunities for your students to experience: including an exhilarating hike up a relatively steep trail, a short museum tour and demonstrations of historic objects, tools and furs. Other trail walks are available that feature trails sloped appropriately for wheel chair and other mobility impaired visitors.
For more information on reserving a ranger conducted program - contact the Monument at 563.873.3491. Entrance to the Monument is free for all groups.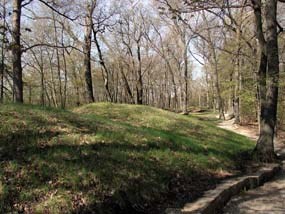 Optional Field Trip Activities
Trail Hikes
A two-mile hike along the Fire Point Trail leads to over 20 mounds, including conical, linear, compound (linear and conical combined as one mound) and effigy. This activity interprets the lives of woodland moundbuilding peoples, their use of and impact on the environment and how this relates to us today.
A one-mile walk along an accessible boardwalk trail leading into a wetland is also available. A visit to three conical burial mounds (no effigies) is included in this activity.
Museum Tour

The museum includes a display of American Indian artifacts up to 10,000 years old.


Last updated: August 29, 2021