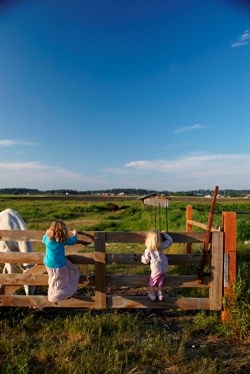 Discover Ebey's!
What will you discover on a visit to Ebey's Reserve? From parks to beaches, forts to forests, there is no lack of places to see and explore!
You can hike the trails around the Reserve, go beachcombing, visit a lighthouse at Ft. Casey, walk through fields of lavender, and have an ice cream cone in downtown Coupeville - the second oldest town in the state of Washington!
Mammoth bones and ice age artifacts along side Native American canoes tell a part of the story of Ebey's Reserve and Whidbey Island, which you can discover at the Island County Museum.
Visit the Alexander, Ebey, Crockett and Davis blockhouses that were once used for protection against potential threats.
And if you like to go camping, be sure to visit Ft. Casey and Ft. Ebey State Parks or Rhododendron Park.
Come on, Discover Ebey's! We look forward to hearing all about what you discovered at Ebey's Landing National Historical Reserve!