Bush Key

Visiting Bush Key
Visiting Dry Tortugas National Park during the late fall and early winter season affords a special opportunity to explore a rare undeveloped, subtropical island known as Bush Key. During the breeding season, this small island, only 16 acres in size, is home to birds not found elsewhere in the continental United States.
IMPORTANT: Due to the dynamic landscape and shifting sands, at times Bush Key is accessible to Garden Key via a land bridge, at other times Bush Key is only accessible via kayak or canoe.
Please remember to stay on the sandy beaches and avoid walking through the sensitive island vegetation that provides critical habitat for nesting birds. Much of the vegetation is still recovering from Hurricane Ian in 2022.
Things to Do at Bush Key
Hiking: Once the nesting wildlife have vacated Bush Key, visitors are invited to take a stroll along the shoreline of this uninhabited island. When Bush Key is open, visitors are welcome to walk the out and back on the 1 mile round trip shoreline trail from sunrise to sunset. To preserve a tranquil visitor experience and protect the fragile plant life, we require visitors to stay on the trail. Bush Key changes from sand to coral rubble, so footwear is recommend.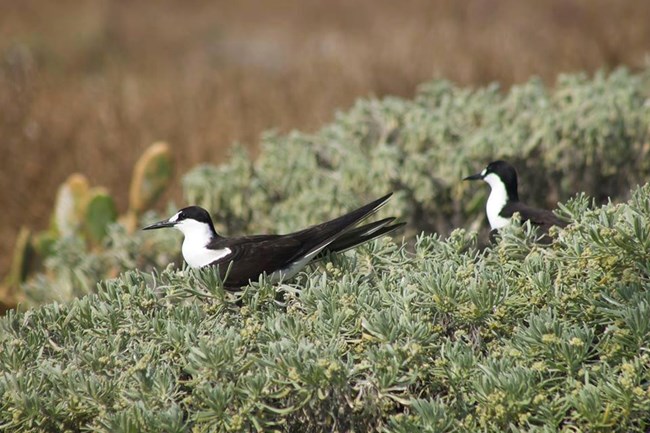 Nesting Significance
Bush Key closes every year around February to September, when up to 80,000 sooty terns and 4,500 brown noddies make nests and raise their young on the island. This is the only significant breeding colonies of sooty terns and brown noddies in the United States.

Learn more about wildlife watching at Dry Tortugas here.
Last updated: September 8, 2023