Sound Gallery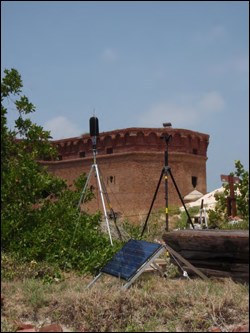 During the summer of 2008 and winter of 2009, acoustic monitoring systems were deployed in Dry Tortugas National Park by staff from the National Park Service Natural Sounds Program. The data that were collected will be used to represent summer and winter baseline ambient sound levels in the park. By quantifying baseline ambient sound levels, a foundation can be established from which potential noise impacts can be assessed. The collection of ambient sound level data provides valuable information about acoustic conditions for use in developing soundscape management plans for the park.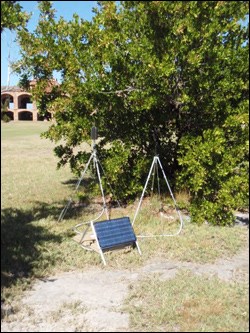 The summer 2008 acoustic monitoring system was located on a beach very close to the coaling docks. However, the summer season was thwarted by hurricanes and only a few days of recordings were made before the system had to removed because of inclement weather. The winter 2009 acoustic monitoring system successfully recorded for a month. To better protect the system from extreme weather events, the equipment was deployed inside Fort Jefferson. In a separate effort in 2008, specific noise sources, such as the generator, were measured in the park. The two reports that document the results of these monitoring efforts are available below under "Additional Resources."
Fort Jefferson is subject to a wide variety of human and natural sounds. Human sounds included aircraft, watercraft, visitor voices, lawn maintenance equipment, and generator noise. Natural sources included birds (primarily seafowl), wind-related sounds, surf, water lapping up against the shore, and some insect noise in the summer. Recorded inside Fort Jefferson, the winter soundscape primarily was defined by human activities related to the fort, including construction noise. Additional unique sounds inside the fort included the sound of wind rushing through the fort. Winter human sources of sound included diesel engine sounds, watercraft, visitor conversation, and children's voices. Natural sources of sound included birds, wind-related sounds, and some surf. No insects were audible during the winter recording period.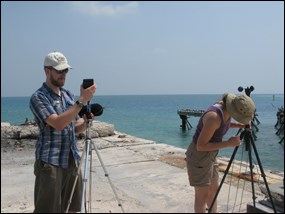 Although no long-term monitoring was done at the coaling docks, some spot measurements of sound were taken. Below, listen to a representative sound clip of birds that was recorded on Garden Key. Can you identify any of the bird species by the calls that you hear? What other sounds can you hear in the recording? Can you hear any human-caused sounds? What effects do you think the sound of the generator humming in the background might have on the birds? What effects do you think the sounds of the generator might have on park visitors, and on the people who live and work on Garden Key?
Birds

Sound clip of birds recorded on Garden Key in Dry Tortugas National Park.

Credit / Author:

NPS Natural Sounds Program

Date created:

2020-10-14 00:00:00.0
Additional Resources
The following publications are available for download: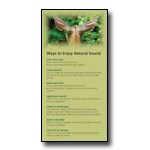 Ways to Enjoy Natural Sound
Brochure (PDF, 303 KB)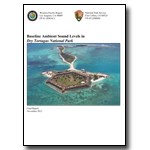 Baseline Ambient Sound Levels in Dry Tortugas National Park
Technical Report (PDF, 1.76 MB)
Primary objective of study:
To quantify the baseline ambient sound levels within Dry Tortugas National Park to establish a foundation from which potential noise impacts can be assessed.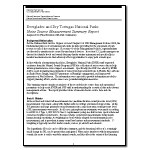 Everglades and Dry Tortugas National Parks Noise Source Measurement Summary Report
August 2011 (PDF, 2.0 MB)
Analysis of the recorded noise source data and operational parameters. The report provides tables of measured noise source data and site descriptions.
Soundscapes Research and Management:
Understanding, Protecting, and Enjoying the Acoustic Environment of our National Parks
Park Science Special Issue
Winter 2009/2010 (PDF, 9.02 MB)
Explore the science behind soundscapes in the National Park System.
Last updated: February 8, 2018