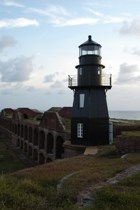 Accepting Applications from Businesses Interested in Providing Visitor Services in Dry Tortugas National Park

The National Park Service will be accepting applications for Commercial Use Authorizations from individuals or businesses wishing to offer 1) guided fishing trips, 2) dive and/or snorkeling trips, 3) guided wildlife viewing trips and 4) sailing charters to Dry Tortugas National Park during 2008/2009. The deadline for submitting an application and additional information is November 30, 2007.
To obtain the information and forms necessary to complete your Application Package, please download the following three files:
Instruction Guide (pdf 389 kb)
Application Form (pdf 154 kb)
Supplemental Questions (pdf 76 kb)
Each of these documents will assist you in applying for one of the 30 Commercial Use Authorizations that will allow you to provide recreational services within the boundaries of Dry Tortugas National Park.