History & Culture

History of Dry Tortugas becoming a National Park
Fort Jefferson National Monument was designated by president Franklin D. Roosevelt under the Antiquities Act on January 4, 1935. (Comprising 47,125 acres (19,071 ha) The monument was expanded in 1983 and redesignated as Dry Tortugas National Park on October 26, 1992 by an act of Congress.

Dry Tortugas was established to protect the island and marine ecosystems of the Dry Tortugas, to preserve Fort Jefferson and submerged cultural resources such as shipwrecks, and to allow for public access in a regulated manner.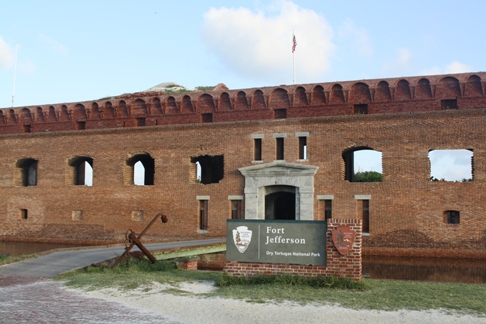 Fort Jefferson on Garden Key
Fort Jefferson, the largest all-masonry fort in the United States, was built between 1846 and 1875 to protect the nation's gateway to the Gulf of Mexico. Supply and subsidence problems and the Civil War delayed construction. The fort was never completed because of fears that additional bricks and cannon would cause further settling and place more stress on the structure and the cistern system. Distinguishing features include decorative brickwork and 2,000 arches. Time, weather, and water continue to take their toll, necessitating ongoing stabilization and restoration projects.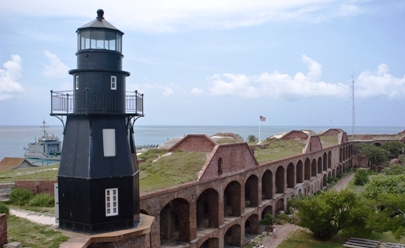 Fort Jefferson and a Harbor Light

A large military fortress, Fort Jefferson, was constructed in the mid-19th century as an effort for the United States to protect the extremely lucrative shipping channel. Low and flat, these islands and reefs pose a serious navigation hazard to ships passing through the 75-mile-wide straits between the gulf and the ocean. Consequently, these high risk reefs have created a natural "ship trap" and have been the site of hundreds of shipwrecks. A lighthouse was constructed at Garden Key in 1825 to warn incoming vessels of the dangerous reefs and later, a bricktower lighthouse was constructed on Loggerhead Key in 1858 for the same purpose. Discover and explore the rich heritage of Dry Tortugas National Park on the history and culture pages.