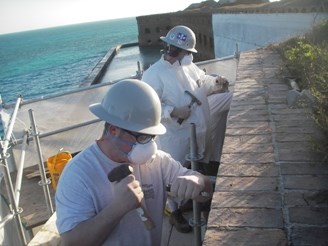 The Masons working on restoring Fort Jefferson generally work from January through May. The work stops during the hurricane season which is June through November. Check here for current areas closed to the public for safety reasons while they work on Phase 2 of the Stabilization Project.
TEMPORARY CLOSURES FOR STABILIZATION WORK
Currently, the only visitor use area that is affected by the stabilization project is the foot path along front 6. This is temporarily closed and visitors are being re-routed around the debris pile, along the beach.
Thank you for your cooperation.
If you need additional information please feel free to contact the receptionist for Everglades and Dry Tortugas National Parks at 305-242-7700.