Volunteer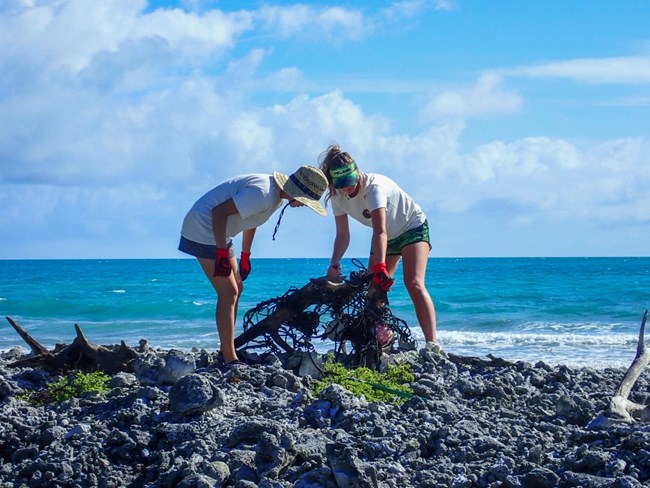 Volunteers-In-Parks Program
All Volunteer Positions Currently Filled
At this time, all of our island volunteer positions have been filled and we are not accepting any new applications. When available,volunteer positions are advertised at www.volunteer.gov
Thank you for your interest in volunteering in your national parks!

Program Information
Volunteer opportunities are limited due to lack of housing at this far offshore location. The park generally seeks individuals who can work on the advanced mechanical infrastructure, including journeyman electricians, plumbers, and machine and engine mechanics (both diesel generators and outboard engines), Also, less skilled help is always needed on the mainland to support island operations.
Through the Volunteers-In-Parks (VIP) program, individuals generously share their time and talents to improve the visitor experience and maintain the unique resources found within the park.
VIP History
The National Park Service Volunteers-In-Parks Program (VIP) was authorized and enacted in 1970. The primary purpose of the VIP program is to provide a vehicle through which the National Park Service can accept voluntary help and services from the public. The major objective of the program is to use this voluntary help in such a way that is mutually beneficial to the National Park Service and the volunteer.

Our volunteers are, without a doubt, Very Important People! In Fiscal Year 2005, 137,000 volunteers donated 5.2 million hours to your national parks at a value of $91.2 million. Volunteers come from all over to help preserve and protect America's natural and cultural heritage for the enjoyment of this and future generations. Young and old alike give of their time and expertise to assist in achieving the National Park Service mission.
Volunteering at Dry Tortugas National Park
Volunteer opportunities at Dry Tortugas National Park require living and working in a very remote and wonderfully unique setting. Volunteers must be in good physical condition and capable of working full days in the sun and wind.

Volunteer positions require bending and lifting, as well as work in a sometimes harsh subtropical environment approximately 70 nautical miles from medical care.

Because this is a remote location, careful planning is a must. Internet and phone service is limited and is not always reliable due to weather and satellite conditions. Cell phone service is not available. For groceries, you do not pack with you, you can place a grocery order once a week from a local grocery store. The nearest medical facilities are in Key West and are only accessible by daily ferry service (weather dependent).

Volunteers are accepted from the public without regard to race, creed, religion, age, sex, sexual orientation, national origin, or disability. Please note that volunteers are not considered to be federal employees for any purposes other than tort claims and injury compensation. Volunteer service is not creditable for leave accrual or any other benefit. However, volunteer service is creditable work experience.
Connect With Us
Volunteer Program Coordinator:
Curtis Hall, curtis_hall@nps.gov
Last updated: March 27, 2021