Safety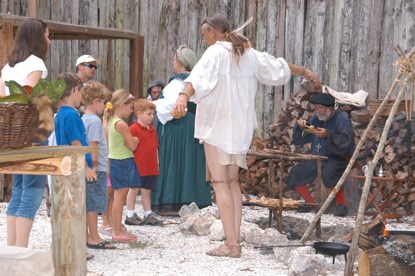 An Outstanding Safety Record
De Soto National Record has recorded more than fifteen years of injury free operation. Your assistance in maintaining that outstanding record is requested.
Every effort has been made to make the park as safe as possible. However, the use of fire, black powder and other weapons in Camp Uzita require particularly caution, especially with small children who are excited by what they see and sometimes forget safety rules.
The trails and beaches also include potential hazards. Remain on established trails and beaches. Do not disturb animals in the park, nor touch dead fish or animals that occasionally wash up on the beach.

Florida is prone to severe weather. During the summer months the heat and humidity can quickly dehydrate an individual and create heat distress and stroke. Please be mindful and bring water and liquids to stay hydrated. Also during the late summer Tampa Bay is prone to sudden and violent thunderstorms. Please seek shelter in the park's Visitor Center if one of these storms blow in. Do not remain out in the open or under trees due to frequent lightning strikes. In the Winter months Florida does get cold, but even if it is a sunny day, water temperatures could be in the low 70's. If enjoying the water please be mindful that prolonged exposure to cold water temperatures can produce hypothermia. If you experience loss of feeling in limbs and uncontrollable shaking please exit the water and warm up.
If you detect a potential hazard, please report it to the Visitor Center immediately or call 941-792-0458 ext 105 to report any incidents. If it is an emergency please contact 911 immediately.


Last updated: April 14, 2015