Pets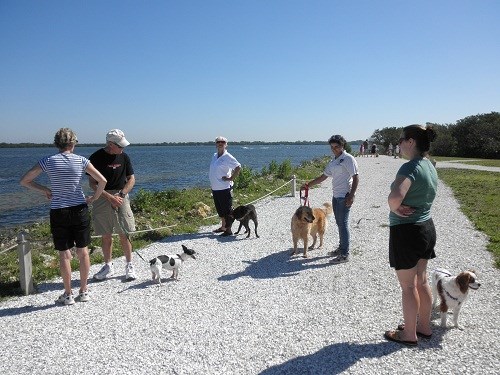 Pet Policy
De Soto National Memorial allows its visitors to bring their pets to the park. The park's beaches are popular with dog owners and the trails are ideal for pleasant walks. De Soto National Memorial, though pet friendly, is not a designated dog park. As per county and park regulations, all pets must be maintained on a six foot fixed leash. This is to protect your pet and to keep them on the trails. De Soto National Memorial is a National Park and maintains many protected native flora and fauna. Leashing your pet prevents them from wandering off and possibly getting injured. Leashing also protects the native species from any possible harm that could incidentally be caused by your pet.
We also ask that while in the park, please be mindful to our other visitors. Not everyone shares the same view of pets that you do so please maintain control over your pet when they interact with other people and animals. We also ask that you please pick up after your pet. Pet waste is a major source of harmful bacteria and is toxic to many native species and is also a known water pollutant.
Bringing your pet into the park is a privilege, please help us maintain this privilege by being responsible and courteous. Thank You.
Last updated: November 19, 2019