For Kids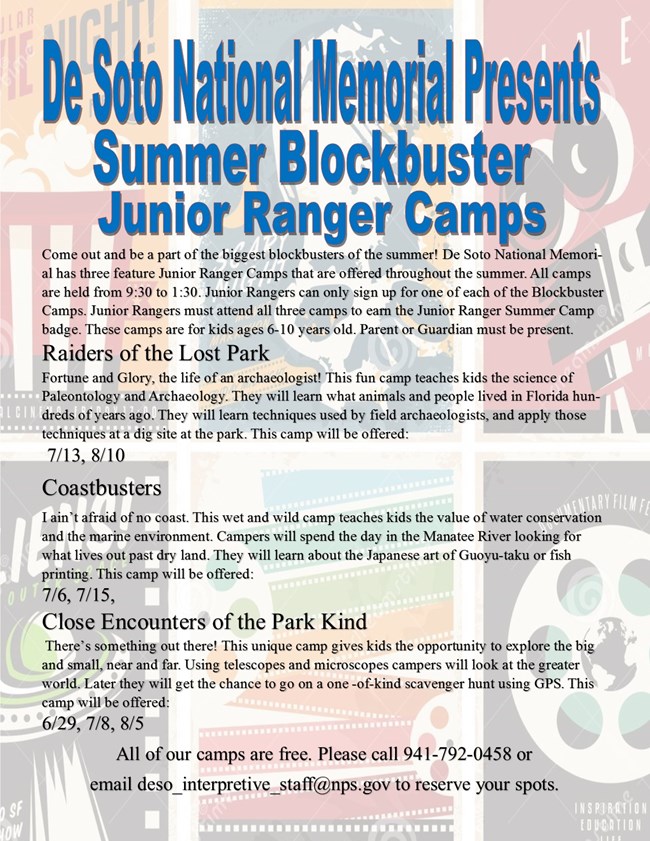 Summer Blockbuster,
Junior Ranger Day Camps 2019

Come out and be a part of the biggest blockbusters of the summer! De Soto National Memorial has three feature Junior Ranger Camps that are offered throughout the summer. All camps are held from 9:30 to 1:30. Junior Rangers can only sign up for one of each of the Blockbuster Camps. Junior Rangers must attend all three camps and receive their Blockbuster Camp
Stamps to earn the Junior Ranger Summer Camp badge. These camps are for kids ages 6-10 years old. Parent or Guardian must be present.
Raiders of the Lost Park
Fortune and Glory, the life of an archaeologist! This fun camp teaches kids the science of Paleontology and Archaeology. They will learn what animals and people lived in Florida hundreds of years ago. They will learn techniques used by field archaeologists, and apply those techniques at a dig site at the park. This camp will be offered:
7/13, 8/10
Coastbusters
I ain't afraid of no coast. This wet and wild camp teaches kids the value of water conservation and the marine environment. Campers will spend the day in the Manatee River looking for what lives out past dry land. They will learn about the Japanese art of Guoyu-taku or fish printing. This camp will be offered:
7/6, 7/15
Close Encounters of the Park Kind
There's something out there! This unique camp gives kids the opportunity to explore the big and small, near and far. Using telescopes and microscopes campers will look at the greater world. Later they will get the chance to go on a one -of-kind scavenger hunt using GPS. This camp will be offered:
6/29, 7/8, 8/5
All of our camps are free. Please call 941-792-0458 or
e-mail usto reserve your spots. Hurry, camps are filling fast! Get your seat before this Blockbuster is Sold Out!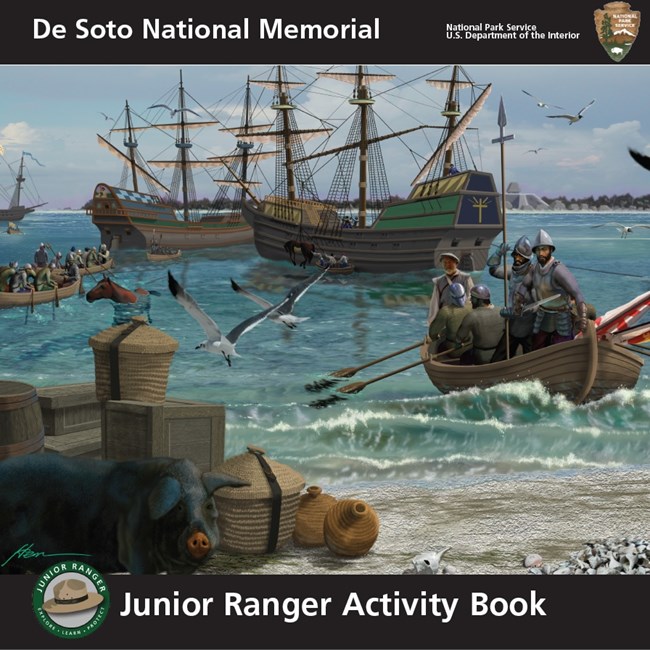 De Soto Junior Ranger Activity Book
De Soto National Memorial offers year round an award winning Junior Ranger program. While visiting the park your Junior ranger will receive an activity book, pencil, and compass to get them started. Junior Rangers will learn about the De Soto expedition and the Native American people as they are guided around the park and its trails. Junior Rangers must complete six activities as well as the map activity within the book.


Last updated: June 1, 2019