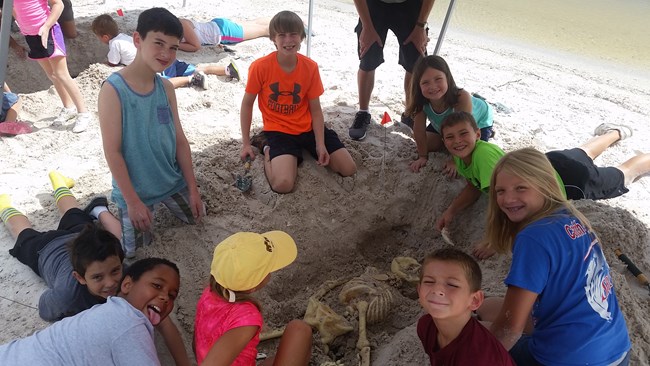 Annual Junior Ranger Summer Camp
Junior Ranger Summer Camp is an educational and fun way for your kids to learn about their National Parks. nature, and history.
Open enrollment— We offer open enrollment for children between the ages of 6 to 10, who are interested in exploring and being outdoors!
Registration is free— That is right, all registration and activities are 100% free of charge. Registration for both camps will be May 1st and run through May 6th. Parents will be notified May 10th if their children have been selected to attend the perfered camp of their choice. Parents and guardians will only be able to sign up their children and we must limit only two children per family. Parents who offer to volunteer during the camp with their children will be given special consideration. This year our Summer camps will be offered on May 29th through June 1st and June 12 through the 15th.

Experience Their National Parks— Junior Rangers will learn about all aspects of the place they live and the National Parks. Topics range from Florida's environments, path finding,conservation, archaeology, and history. With this years them being the NPS Centennial!
Junior Ranger Fun!— The Junior Ranger Summer Camps run for four days Tuesday through Friday, 9:30 am to 1:00 pm. This year's summer camps will be offered from May 29th through June 1st and a second camp will be held June 12th through 15th. There will only be 20 spots open for each week so sign up as soon as possible!
Names will be taken from May 1st through May 6th in person at the visitor center, over the phone at 941-792-0458 ext. 105 or by email .
Parents are only allowed to register their own children.
You are only limited to two children per family.
On May 9th and 10th we will pick by random number lottery which children will be attending their preffered camps. Those who do not make the pick will be placed on a reserve list in case of cancellation.
Upon notification parents will have two weeks to turn in their childs registration forms.
What the Junior Ranger Will Need— We Ask that parents please provide the following for their Junior Rangers:
1.Re-usable Water Bottle
2.Hat
3.Sunscreen
4.An end of camp snack
5.Closed toed shoes or sneakers (No flip flops or open toed sandals)
On Water Day Junior Rangers will need:
1.Closed toed and heel water shoes ( No flip flops of sandals)
2.A Towel
3.All other daily expected items
We will have registration forms available at the Visitor Center.