Plan Your Visit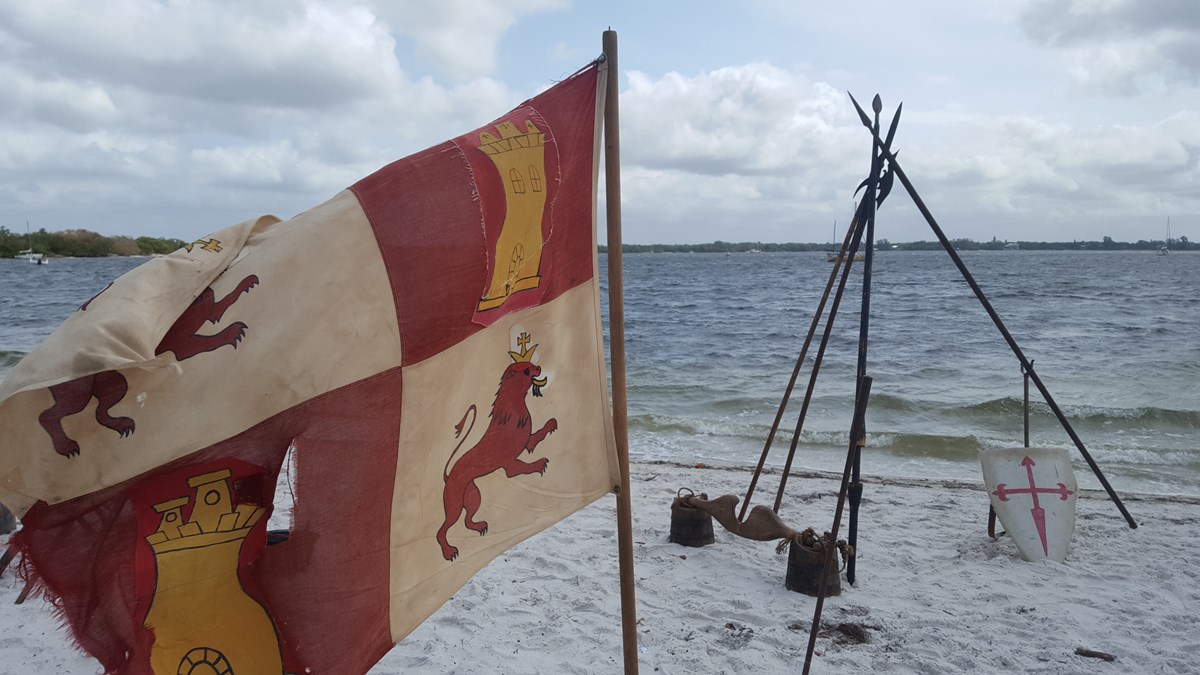 De Soto National Memorial offers many special events and programs annually. To insure that you maximize your enjoyment of the park resources, please use the options below to plan your visit.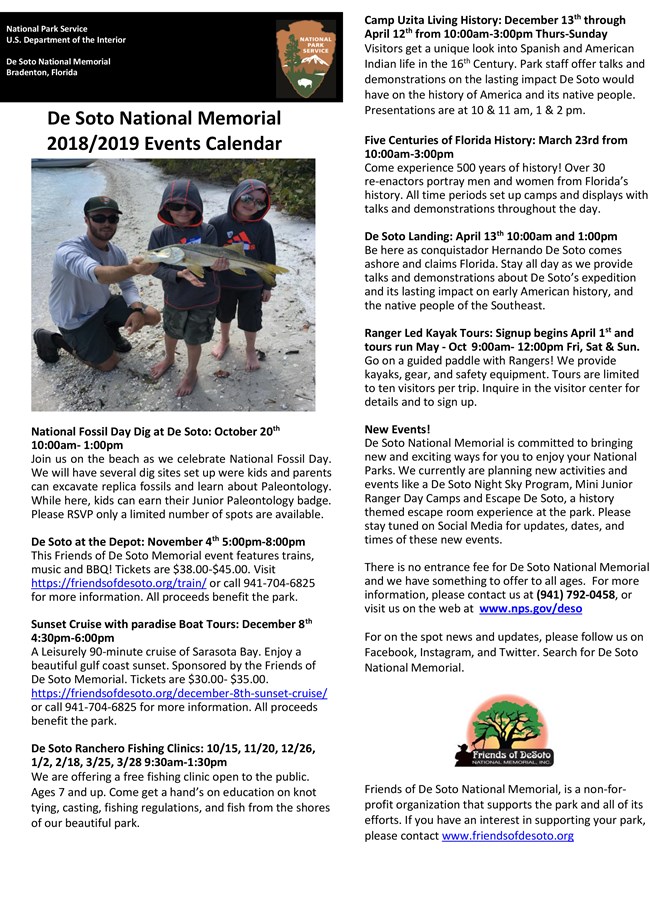 De Soto National Memorial
2018/2019 Events Calendar
Sunset Cruise with Paradise Boat Tours: December 8th 4:30pm-6:00pm
A Leisurely 90-minute cruise of Sarasota Bay. Enjoy a beautiful gulf coast sunset. Sponsored by the Friends of De Soto Memorial. Tickets are $30.00- $35.00. https://friendsofdesoto.org/december-8th-sunset-cruise/ or call 941-704-6825 for more information. All proceeds benefit the park.
De Soto Ranchero Fishing Clinics: 10/15, 11/20, 12/26, 1/2, 2/18, 3/25, 3/28 9:30am-1:30pm
We are offering a free fishing clinic open to the public. Ages 7 and up. Come get a hand's on education on knot tying, casting, fishing regulations, and fish from the shores of our beautiful park.
Camp Uzita Living History: December 13th through April 12th from 10:00am-3:00pm Thurs-Sunday
Visitors get a unique look into Spanish and American Indian life in the 16th Century. Park staff offer talks and demonstrations on the lasting impact De Soto would have on the history of America and its native people. Presentations are at 10 & 11 am, 1 & 2 pm.
Five Centuries of Florida History: March 23rd from 10:00am-3:00pm
Come experience 500 years of history! Over 30 re-enactors portray men and women from Florida's history. All time periods set up camps and displays with talks and demonstrations throughout the day.
De Soto Landing: April 13th 10:00am and 1:00pm
Be here as conquistador Hernando De Soto comes ashore and claims Florida. Stay all day as we provide talks and demonstrations about De Soto's expedition and its lasting impact on early American history, and the native people of the Southeast.
Ranger Led Kayak Tours: Signup begins April 1st and tours run May - Oct 9:00am- 12:00pm Fri, Sat & Sun.
Go on a guided paddle with Rangers! We provide kayaks, gear, and safety equipment. Tours are limited to ten visitors per trip. Inquire in the visitor center for details and to sign up.
New Events!
De Soto National Memorial is committed to bringing new and exciting ways for you to enjoy your National Parks. We currently are planning new activities and events like a De Soto Night Sky Program, Mini Junior Ranger Day Camps and Escape De Soto, a history themed escape room experience at the park. Please stay tuned on Social Media for updates, dates, and times of these new events.
There is no entrance fee for De Soto National Memorial and we have something to offer to all ages. For more information, please contact us at
(941) 792-0458
, or visit us on the web at
www.nps.gov/deso
For on the spot news and updates, please follow us on Facebook, Instagram, and Twitter. Search for De Soto National Memorial.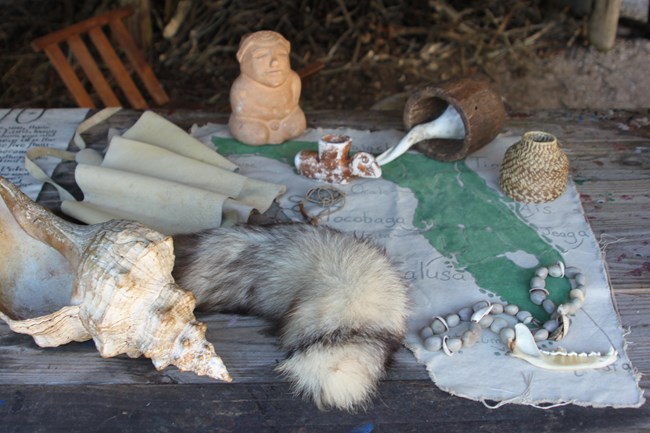 Camp
Uzita
opens with a day full of activities and events
Camp Uzita at De Soto National Memorial will open its 48th year of living history programs on Thursday December 13th. and conclude April 12th. Camp Uzita is a replica of a 16th Century Indian village that the Spanish Conquistador Hernando de Soto occupied in the summer of 1539. Here National Park Service interpreters and volunteers bring to life the story De Soto's expedition through historical talks and demonstrations.
History come's to life
— Experience life in 16th Century America first hand. Walk through a Spanish encampment and learn about the hardships of life on De Soto's 1539 expedition. Try your hand at being a Spanish soldier by trying on their armor and practice your skills at firing a crossbow on the range!
Florida Indian Culture
— Learn about the people that were here long before the Europeans came. Learn about the complex tribal societies of the Tocobaga, Timacuan, and Calusa from artifacts and stories recorded by Spanish friars and chroniclers.
Unique Weapons and Demonstrations
— Walk through time and listen to the stories of De Soto's expedition supplied by first hand accounts and watch as park rangers and re-encator's demonstrate the unique weaponry of the expedition, see and hear the matchlock arquebus one of the first firearms brought to the New World.
Camp Uzita is open Thursday through Sundays with programs four times a day starting at 10:00 am. Camp Uzita closes at 3:00 pm.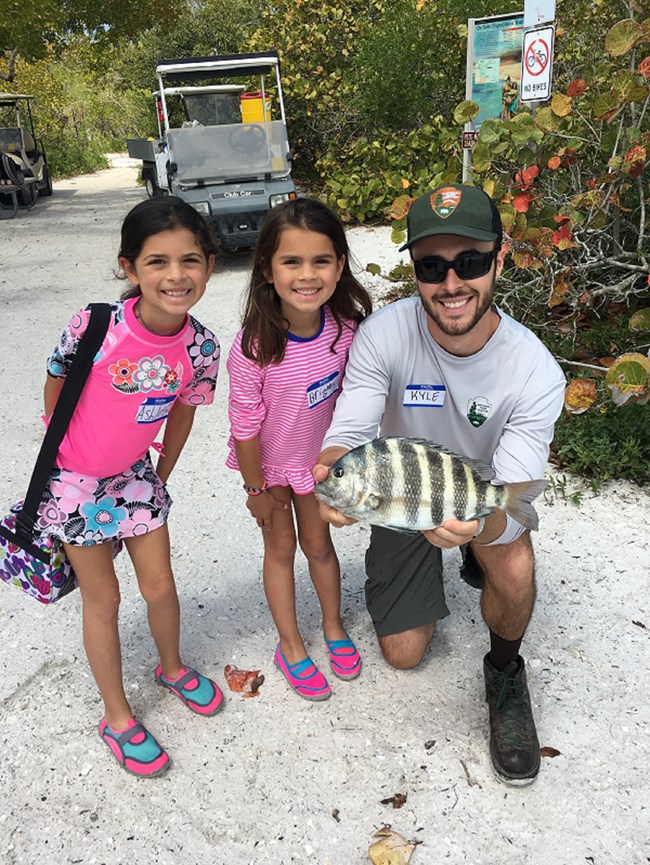 De Soto National Memorial Offering
Free Fishing Clinics for All Ages
Bradenton, Fla. — We are happy to announce the new free public program at De Soto National Memorial, the De Soto Rancho Fishing Clinic! The clinic is designed October 15th, November 20th, December 26th, January 2nd, February 18, March 25th, and March 28th with plans for more into the new year.
These small, ranger-led clinics will consist of no more than ten participants (excluding parents or guardians) and give a great introduction into saltwater fishing in southwest Florida. Participants will be first-come, first-served. One parent or guardian must accompany the child (if under 16) to the clinic.
Each camp starts with a basic introduction to fishing rods, reels, lines, and lures. Proper knot tying techniques are shown and practiced so your catch won't slip away! Casting, one of the trickiest and most important parts of fishing, is practiced in a fun and safe way. Participants try to snag "backyard bass" on the lawn, and refine their casting technique. In addition, everyone will receive a crash course in identification of native fish species and the Florida rules and regulations that go along with each fish.
After all of this has been learned and practiced, it is then time to apply this knowledge by going fishing. Park staff will assist you on your first fishing experience in the park. We provide the rods and the bait.
This program will give you a great tackle box of knowledge and skills going forward so that you will be able to go out and experience your own fishing adventures!
To sign up, please call 941-792-0458 and speak with a ranger or send an e-mail to deso_interpretive_staff@nps.gov. Please include child's name, age, parental contact name and phone number. If you have a large family, community group, Scout group, or school group please contact us and we can schedule a special date for you. Groups must consist of at least six children and no more than ten.


Last updated: November 24, 2018