Plan Your Visit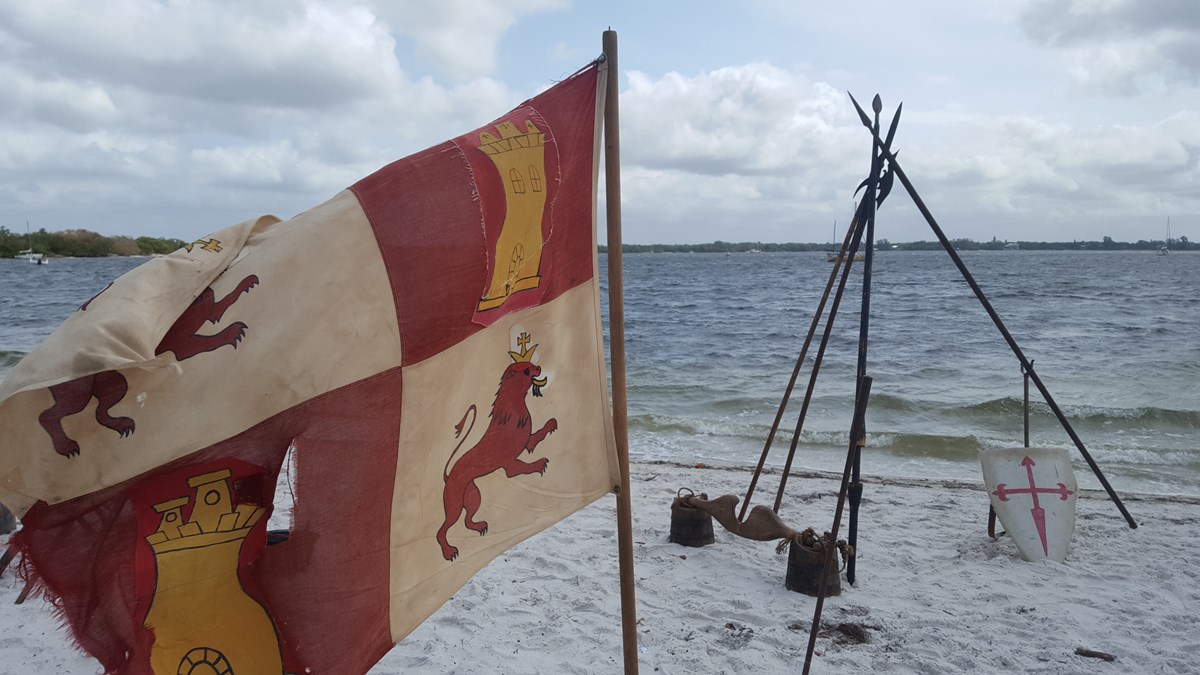 De Soto National Memorial offers many special events and programs annually. To insure that you maximize your enjoyment of the park resources, please use the options below to plan your visit.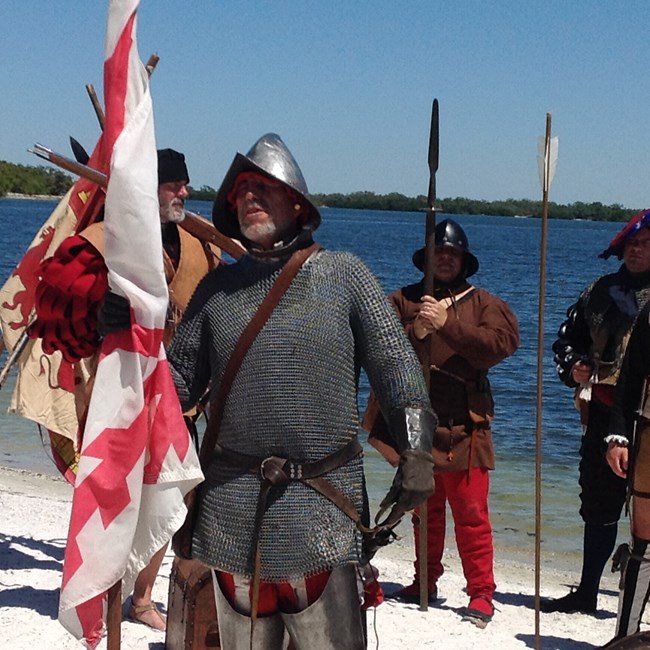 The 79th Annual De Soto Landing Event on Saturday, April 14th at De Soto National Memorial
Join De Soto National Memorial on Saturday, April14th as we recreate the landing of Hernando de Soto. It was 479 years ago, that De Soto landed on the shores of Florida and began a quest that would change the fate of North America forever.

Watch the Landing — Witness history as De Soto's boats make landfall, claiming the land of La Florida for the crown of Spain. Landing times are at 10:00 am and 1:00 pm by the monuments along the cove.

Unique Weapons and Demonstrations — Walk through time and hear first-hand accounts of the Europeans who trudged over 4,000 miles in search of riches and glory. Hear the stories of their clashes with the tribes of the American Southeast, and their ultimate failure in the cursed land of La Florida. Watch reenactors demonstrate the unique weapons used by the Native Americans and the European invaders. Black powder weapons will be fired throughout the day.

Experience History — Follow the footsteps of history, as our experts will take visitors on historical walks. Join Living history park rangers and reenactors from all over Florida recount life during the 16th Century.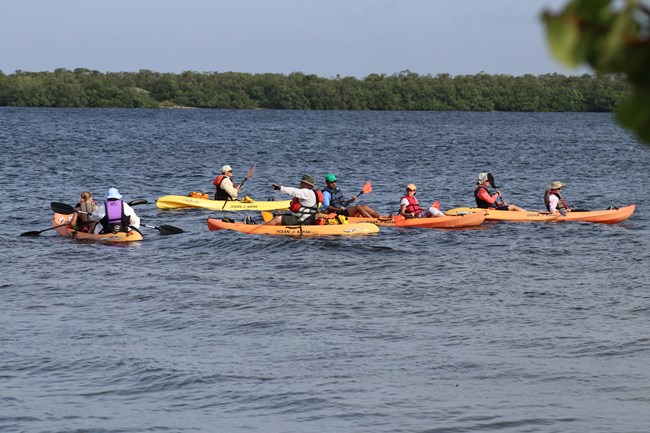 De Soto National Memorial Ranger led Kayak Tours.
On Fridays, Saturdays and Sundays from May through October, De Soto National Memorial offers free ranger led kayak tours. Explore the waters that Native American Indians and Spanish Conquistadors traveled hundreds of years ago.
First time or experienced
—For all skill levels, our trained rangers will ensure your first time will be safe and enjoyable. For kayakers with more experience, our tour will offer a different way for you to view the natural resources and vibrant history of the Manatee River.
No Equipment, No Problem
—We supply Kayak, paddles, personal flotation devices, and other safety equipment. This is an excellent way to try out a new hobby before spending all the money.
A unique look at Florida's coastal resources
— Paddle through time as you explore the coastal estuaries. Learn how native peoples and European settlers used the water ways for transportation and food. Learn about several of Florida's unique coastal ecosystems. Find out how you can help preserve and protect these fragile ecosystems for future generations.
Tour Information
— We begin taking reservation on April 1st. Move quickly as spaces fill up fast! Kayak tours will be held on Friday, Saturday and Sundays from May 11th through October 28th at 9:30 am The kayak tours and all equipment rentals are free. RSVP is mandatory for space is limited please call 941-792-0458. All children between the ages of 8-16 must be accompanied by an adult. Due to life jacket restrictions children less than 50 lbs. are not allowed on tours. Free paddle is only allowed under supervision of a park ranger, all participants must stay with the tour. All gear will be checked and a safety briefing will be held before the tour begins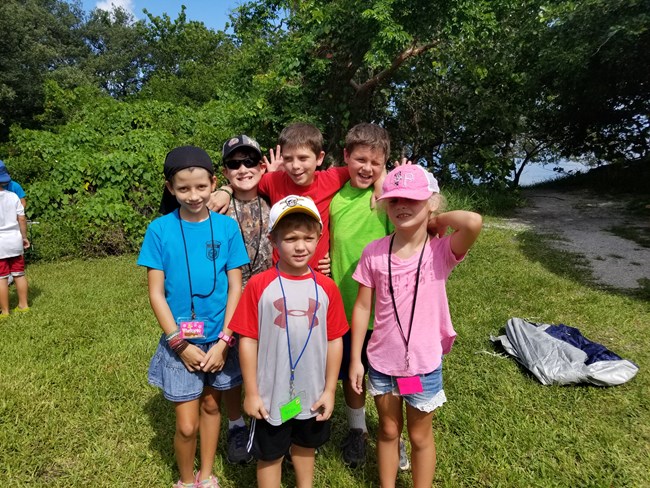 Join Us at our Annual Junior Ranger Summer Camp
Junior Ranger Summer Camp is an educational and fun way for your kids to learn about their National Parks. nature, and history.
Open enrollment— We offer open enrollment for children between the ages of 6 to 10, who are interested in exploring and being outdoors!
Registration is free— That is right, all registration and activities are 100% free of charge. Registration for both camps will be May 1st and run through May 6th. Parents will be notified May 10th if their children have been selected to attend the perfered camp of their choice. Parents and guardians will only be able to sign up their children and we must limit only two children per family. Parents who offer to volunteer during the camp with their children will be given special consideration. This year our Summer camps will be offered on May 29th through June 1st and June 12 through the 15th.
Experience Their National Parks— Junior Rangers will learn about all aspects of the place they live and the National Parks. Topics range from Florida's environments, path finding,conservation, archaeology, and history. With this years them being the NPS Centennial!
Junior Ranger Fun!— The Junior Ranger Summer Camps run for four days Tuesday through Friday, 9:30 am to 1:00 pm. This year's summer camps will be offered from May 29th through June 1st and a second camp will be held June 12th through 15th. There will only be 20 spots open for each week so sign up as soon as possible!
Names will be taken from May 1st through May 6th in person at the visitor center, over the phone at 941-792-0458 ext. 105 or by email .
Parents are only allowed to register their own children.
You are only limited to two children per family.
On May 9th and 10th we will pick by random number lottery which children will be attending their preffered camps. Those who do not make the pick will be placed on a reserve list in case of cancellation.
Upon notification parents will have two weeks to turn in their childs registration forms.
What the Junior Ranger Will Need— We Ask that parents please provide the following for their Junior Rangers:
1.Re-usable Water Bottle
2.Hat
3.Sunscreen
4.An end of camp snack
5.Closed toed shoes or sneakers (No flip flops or open toed sandals)
On Water Day Junior Rangers will need:
1.Closed toed and heel water shoes ( No flip flops of sandals)
2.A Towel
3.All other daily expected items
We will have registration forms available at the Visitor Center.


Last updated: April 30, 2018