Operating Hours & Seasons
Operating Hours
The Visitor Center is open daily, 9:00am. to 5:00pm. Park grounds are open dawn to dusk, but the parking lot gates close at 5:00pm. Vehicles left within the parking lot after 5:00pm. will remain there overnight and may be ticketed. There is no overnight camping in the park.
De Soto National Memorial is closed on New Years Day, Thanksgiving, and Christmas. The park may also be closed for periods of time during hurricane season if the arrival of a hurricane is imminent.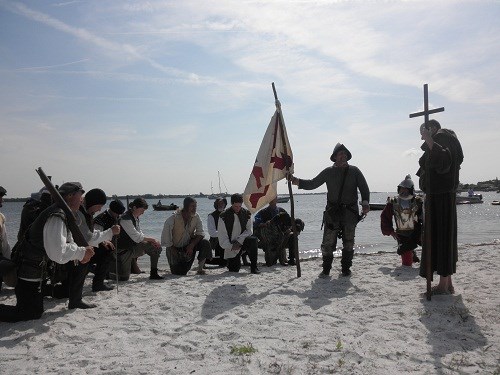 Winter Season Activities
Camp Uzita
Camp Uzita is where the majority of the parks living history programs are held four days a week Thursday through Sunday from December to mid-April from 10am - 3pm. Park staff and volunteers recreate a working 16th Century camp experience. Here you can try on armor, watch archery contests, and hear the roar of an arquebus. Programs and demonstrations run 10am,11am,1pm & 2pm. Topics include 16th Century European and Native American cultures, the legacy of the expedition, and stories about the people who came here with De Soto in 1539.

Our Winter season concludes in April with the annual De Soto landing reenactment. Come to the parks' beaches and witness a historical recreation of Conquistador Hernando de Soto's landing in Tampa Bay. The landing event is held twice at 10am and 1pm.
Please check our events calendar or call 941-792-0458 to check for times and details.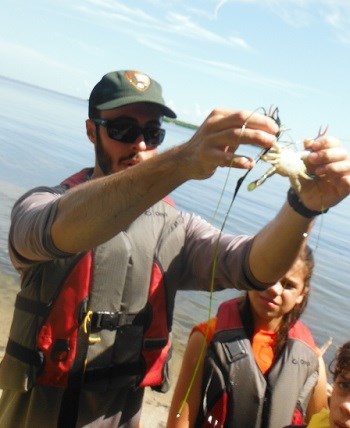 Summer Season Activities
**Following guidance from the CDC and recommendations from state and local public health authorities in consultation with NPS Public Health Service Officers, De Soto National Memorial is temporarily closed. All Summer Season Activities, including the bookings and reservations, are on hiatus until further notice.**
Ranger-led Kayak Tours
Weekends from May to October De Soto National Memorial offers a free kayaking experience. Explore Florida's historic waterways as park rangers talk about the ways native people and early settlers used Florida's bays, estuaries and rivers to live, trade, and fight. See the park from a different perspective. Learn about Florida's unique coastal ecosystems and ecology as you move through three different and unique coastal systems. All equipment is provided, but you must call ahead to make a reservation. Please call 941-792-0458 to check for availability. **All reservations are currently on hiatus until further notice**
Junior Ranger Summer Camp
Throughout the summer we offer free Junior Ranger Day Camps for ages 6-10. Day camps focus on learning about conservation, ecology, history and the National Parks. At the end, they will earn their own Junior Ranger Camp badges that marks them out as one of De Soto National Memorial's awesome Junior Rangers.


Last updated: April 5, 2020