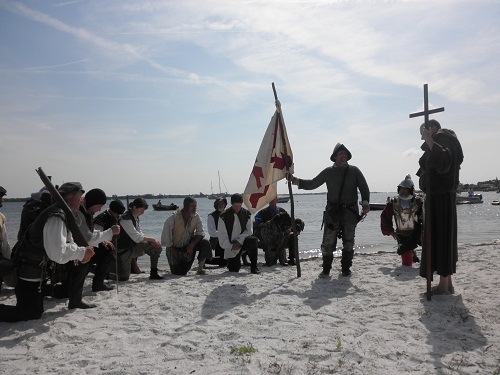 Winter Season Activities
Camp Uzita
Camp Uzita is the spot were the majority of the parks living history programs are held everyday from December to mid April. Park Staff and volunteers recreate a working 16th Century camp experience. Here you can watch black smithing, cooking demonstrations, archery contests and hear the roar of an arquebus. On the hour from 10-3, Park Rangers will give a program on the De Soto expedition. Topics include 16th Century European and Native American cultures, the legacy of the expedition, and stories about the people who came here with De Soto in 1539.
Special Events
Through out the Winter season De Soto National Memorial offers several unique special events.
In October the park holds its haunted trail walk called Desoween. Each year offers a different theme and a new opportunity to see the park in a spooky way. the trail is designed for children and adults ages 7 and up.
In December we light the parks trails with thousands of luminary lights for our Winter Luminary. For one evening come out and listen to local musicians, enjoy the lights, and hear a special holiday program that highlights the way 16th Century peoples commemorated the Winter season.
In February the park will present a featured evening musical program. The free Concerts on he Lawn highlight music from many of the unique cultures that were represented in the De Soto experience. Please check out our calendar of events for date and times.
In March the Park offers a Time traveling experience for our 5 Centuries of Florida History weekend. Join us as reenactors from all over Florida portray men and women from Florida's past.
Our Winter season concludes in April with the annual De Soto landing reenactment. Come to the parks beaches and witness a historical recreation of Conquistador Hernando de Soto's landing in Tampa Bay. The landing event is held twice at 10 am and 1 PM.
Please check our events calendar or call 941-792-0458 to check for times and details.