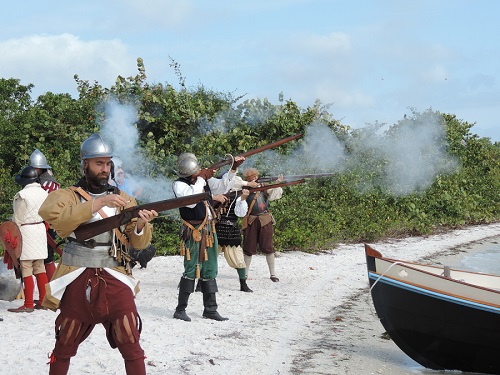 De Soto
News Release
April, 2017
For Immediate Release
941-792-0458
The 78th Annual De Soto Landing Event on Saturday, April 8th at De Soto National Memorial
Join De Soto National Memorial on Saturday, April 8
th
as we recreate the landing of Hernando de Soto. It was 478 years ago that De Soto landed on the shores of Florida and began a quest that would change the fate of North America forever.
Watch the Landing
— Witness history as De Soto's boats make landfall, claiming the land of
La Florida
for the crown of Spain. Landing times are at 10:00 am and 1:00 pm by the monuments along the cove.
Unique Weapons and Demonstrations
— Walk through time and hear first-hand accounts of the Europeans who trudged over 4,000 miles in search of riches and glory. Hear the stories of their clashes with the tribes of the American Southeast, and their ultimate failure in the cursed land of
La Florida
. Watch reenactors demonstrate the unique weapons used by the Native Americans and the European invaders. Black powder weapons will be fired throughout the day.
Experience History
— Follow the footsteps of history as our experts will take visitors on historical walks. Join Living history park rangers and reenactors from all over Florida recount life during the 16
th
Century.
Event admission and all activities are free. Event hours are 10:00 am till 2:00 pm Demonstration times and events are at 10:00 am and 1:00 pm. All activities are subject to change due to weather.
De Soto National Memorial is located at 8300 De Soto Memorial Hwy, Bradenton 34209. On I-75 take exit 220 SR-64 Manatee Ave. Go west to 75
th
street. Travel north, the park is located at the terminus of 75
th
street. De Soto National Memorial is open seven days a week. The Visitor Center is open from 9 a.m. till 5 p.m. park grounds are open from sunrise to sunset.
941-792-0458
-NPS-
EXPERIENCE YOUR AMERICA
The National Park Service cares for special places saved by the American people so that all may experience our heritage.