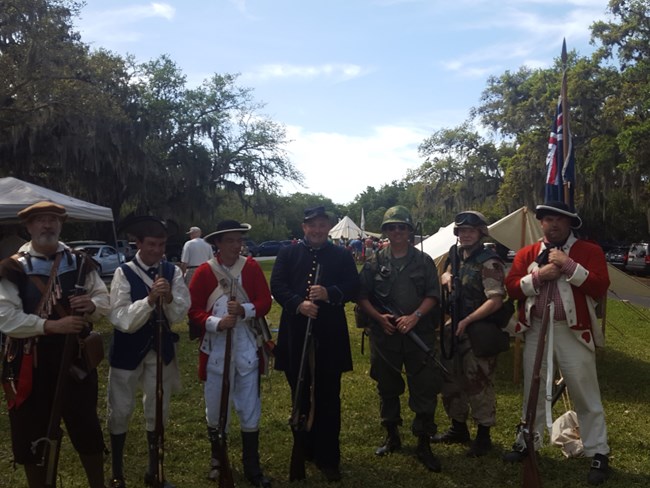 Five Centuries of Florida History
Come experience Five Centuries of Florida history on Saturday March 24th at De Soto National Memorial. From 10:00 am until 3:00 pm, period reenactors will share history and demonstrate their crafts, skills, and historic weapons.
Experience History
— Walk through time as you explore Florida's great history. Come and see the genuine Cracker cow horse "Lightning." Poke around a Civil War encampment, or have coffee with GI's from the sunshine state. Meet Spanish conquistadors, and 19th Century artisans. Come meet modern day archaeologist from our local Time Sifters Archaeology Society.
Free Shuttle Service and Event Parking
— De Soto National Memorial is offering free event parking and free shuttle service. All parking for the event and trollies is at Martha B. King Middle School, located on 75th St NW. The Free trolley will run from 9:30 am until 4:00 pm at regular intervals.
Activities for the Whole Family
— There will be many kids activities throughout the day, there will be a special time traveler's passport were kids could earn the De Soto Junior Ranger badge! We also invite the kids to come out in their own costumes from their favorite time-periods.
Food
— We are happy to have a popular local food establishment on site with food and drinks that can be purchased from 10:00 am until 3:00 pm. They will be offering Pizza and Shredded Pork Tacos!
Admission and all activities are free. Event hours are 10:00 am until 3:00 pm demonstration times and events will be posted on the day of, all activities are subject to change due to weather.
FREE Event Parking will be at Martha B. King Middle School at 600 75th St W, from 9:00 am until 3:00 pm.