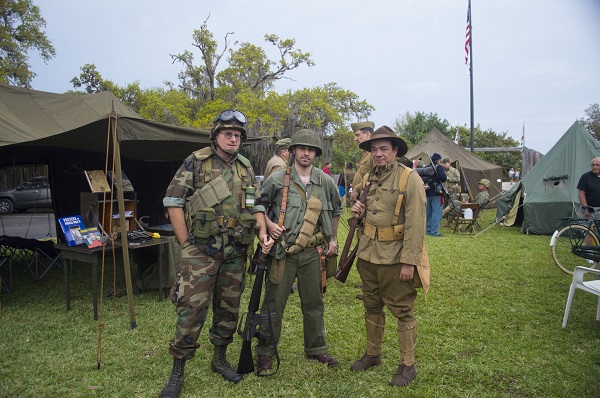 De Soto
News Release
March 2017
For Immediate Release
De Soto National Memorial
941-792-0458
Five Centuries of Florida History Weekend!
Come experience five centuries of Florida history on Saturday and Sunday, March 25th through 26th at De Soto National Memorial. From 10:00 a.m. till 3:00 pm, period reenactors will share history and demonstrate their crafts, skills, and historic weapons.
Experience History
— Walk through time as you explore Pre-historic Florida, poke around a Civil War encampment, or have coffee with dough boys and GI's from the sunshine state who answered the call. Meet Spanish conquistadors, and 19
th
Century craftsmen. Come and be a part of history. From 11 to 2 there will be Centuries programs on the hour were these great living historians will talk about life in their times.
Unique Weapons and Demonstrations
— Listen to soldiers and civilians from the past describe what life was like in times of war. Experience the roar of cannons and the fire of muskets as you go back in time with soldiers who will demonstrate each weapon and explain how each was used in their times.
Activities for the Kids
— Throughout the day, reenactors will share true accounts of how children shaped history from drummer boys in the Civil War to resistance fighters in the liberation of France during WWII. De Soto National Memorial Park Rangers will be out with special Junior Ranger activities. We also invite the kids to come out in their own costumes from their favorite time periods. They can become stars on the parks official Facebook and Twitter accounts and receive a special prize! There will be many activities throughout the day, we will be sure to keep them busy!
Food Concessions on Site
— Make a day of it and stay for lunch. Food will be sold on site provided by J&J BBQ with plenty of delicious and affordable options. Portions of the proceeds will benefit the Friends of De Soto National Memorial and the De Soto Youth Advisory Council.
Admission and all activities are free. Event hours are 10:00 a.m. till 3:00 p.m. demonstration times and events will be posted on the day of, all activities are subject to change due to weather.
De Soto National Memorial is located at 8300 De Soto Memorial Hwy, Bradenton 34209. On I-75 take exit 220 SR-64 Manatee Ave. Go west to 75
th
street. Travel north, the park is located at the terminus of 75
th
street. De Soto National Memorial is open seven days a week. The Visitor Center is open from 9 a.m. till 5 p.m. park grounds are open from sunrise to sunset. For more information please visit our website:
www.nps.gov/deso
, or receive up to the minute updates by liking us on Facebook.