Natural Features & Ecosystems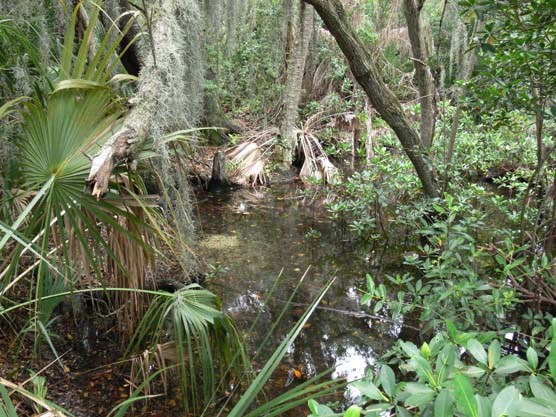 A visitor to De Soto National Memorial can quickly experience four distinct natural ecosystems along the park's half mile nature trail. The park is situated along the south shore of the Manatee River at the mouth of Tampa Bay. The Bay is a subtropical estuary consisting of open water and a mixture of mangrove and salt marsh vegetation in the tidal zone. The average temperature is 72 degrees with January the coldest month and August the hottest. Sixty percent of the annual rainfall falls during the summer months.
The Memorial's vegetation generally consists of salt tolerant species along the coast with pines and palmettos in the interior. Coastal dune vegetation occupies about 20% of the site and occurs at water's edge on a small sand ridge. A mangrove forest covers approximately 30% of the site and occurs inland from the dune habitat. Upland trees, mainly sand and slash pine, occur on the higher elevations and make-up about 35% of the site. Two non-native plant species, Brazilian pepper and carrotwood, have become established in these higher portions of the site. Man-made areas including a parking lot, visitor center, and living history camp make up the remaining 15% of the park.


Last updated: April 14, 2015