Animals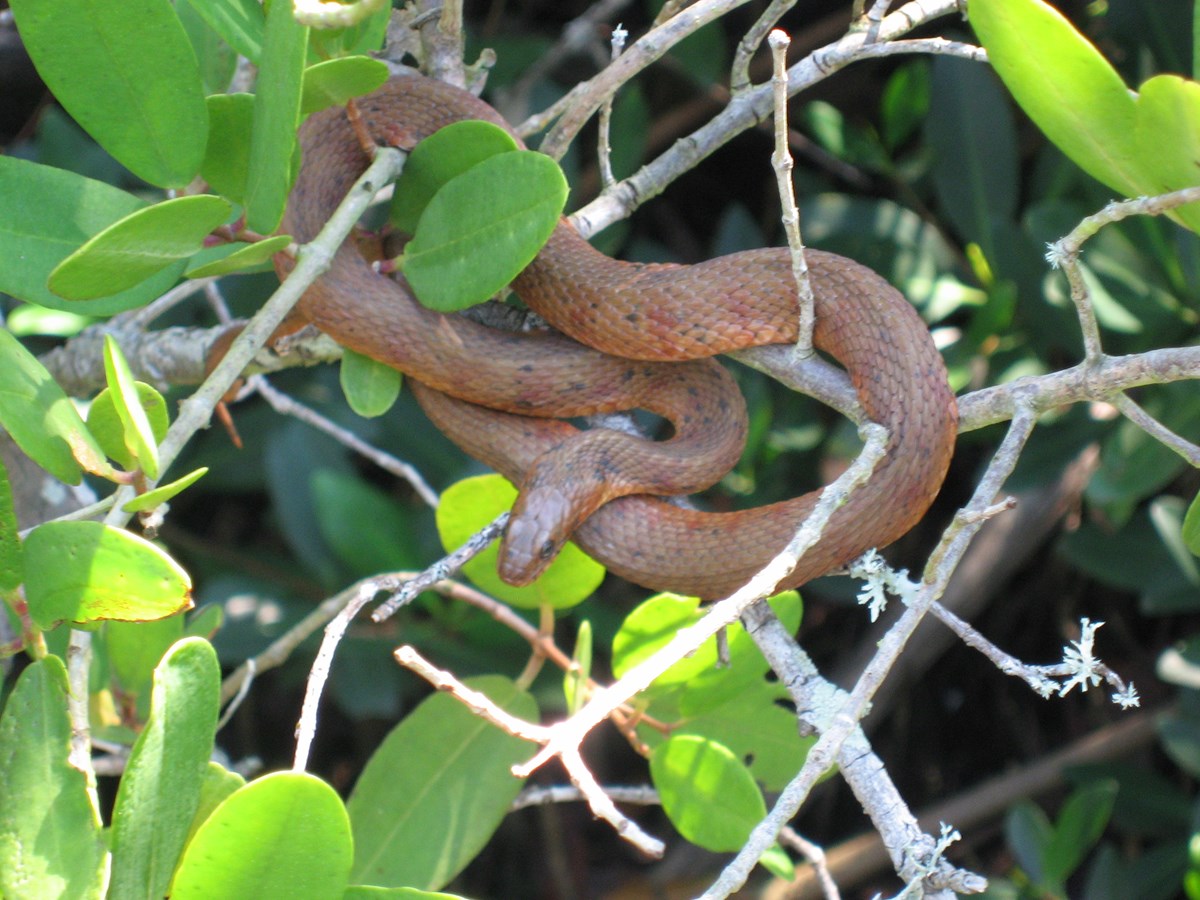 The coastal location of De Soto National Memorial and the combination of aquatic and upland forested habitats attract a wide variety of wildlife. Mammals and butterflies are found in interior habitats, amphibians and fish in wetland areas, and reptiles in both interior and wetland habitats. Birds are the most significant fauna of the site, commonly observed in the aquatic, as well as upland, areas of the park. Invertebrates, particularly fiddler crabs, are common species of the park's mangrove swamp.
Since many of the park's mammal species are nocturnal, including the raccoon, opossum, armadillo, and grey fox, it is unlikely to spot them during the day. The park's reptiles are also often elusive. Among the species sometimes observed in the park, the gopher tortoise finds its home in the pine flatwoods area of the park's interior, while the most common reptile in the park, the brown anole, is actually an exotic from Cuba. Due to the variety of habitats, birds are probably the most visible wildlife in the park. Bald eagles are occasionally observed fishing offshore in the Manatee River. Brown pelicans may also be viewed offshore throughout the year and, in winter months, are sometimes joined by American white pelicans and common loons. This marine habitat also attracts a variety of gulls, terns, and shorebirds whose species change with the seasons. Snowy, reddish, and great egrets are frequently found along the park's shoreline or feasting on invertebrates in the mangrove forest, as are great blue, little blue, and tricolored herons. Occasionally, the endangered wood stork may be observed feeding in the mangroves as well. The richness of upland vegetation also provides habitat for many bird species. Although more difficult to observe in these forested areas, a wide range of warblers, gnatcatchers and flycatchers reside there in winter months.
A bird list is available at the park visitor center.
Vertebrate Inventory
Table 2. Vertebrates and butterflies observed at the De Soto National Memorial.

Birds

Common Name

Species Name

Designated Status FWC FWS

Location (Trail) / Habitat

blackbird, red-winged

(Agelaius phoeniceus)

Pine Flatwoods, Mangroves

bunting, indigo

(Passerina cyanea)

Pine Flatwoods

cardinal, Northern

(Cardinalis cardinalis)

Parking lot, Mangroves

catbird, gray

(Dumetella carolinensis)

Workshop area

chuck-will's-widow

(Caprimulgus vociferus)

Pine Flatwoods

collared-dove, Eurasian

(Streptopelia decaocto)

X

Parking Lot, Mangroves

cormorant, double-crested

(Phalacrocorax auritus)

Flying offshore

crow, American

(Corvus brachyrhynchos)

Mangroves

crow, fish

(Corvus ossifragus)

Mangroves

cuckoo, yellow-billed

(Coccyzus americanus)

Pine Flatwoods

dove, mourning

(Zenaida macroura)

Pine Flatwoods, Parking lot, Mangroves

duck, mottled

(Anas fulvigula)

Flying offshore

eagle, bald

(Haliaeetus leucocephalus)

T T

Flying offshore

egret, cattle

(Bubulcus ibis)

Shoreline, Mangroves

egret, great

(Casmerodius albus)

Shoreline

egret, reddish

(Egretta rufescens)

SSC

Shoreline

egret, snowy

(Egretta thula)

SSC

Shoreline

flycatcher, great-crested

(Myiarchus crinitus)

Pine Flatwoods

frigatebird, magnificant

(Fregata magnificens)

Flying overhead

gnatcatcher, blue-gray

(Polioptila caerulea)

Pine Flatwoods

goldfinch, American

(Carduelis tristis)

Pine Flatwoods

grackle, boat-tailed

(Quiscalus major)

Pine Flatwoods

grackle, common

(Quiscalus quiscula)

Pine Flatwoods

gull, laughing

(Larus atricilla)

Shoreline

hawk, red-shouldered

(Buteo lineatus)

Pine Flatwoods

heron, great blue

(Ardea herodias)

Shoreline

heron, little blue

(Egretta caerula)

SSC

Shoreline

heron, tricolored

(Egretta tricolor)

SSC

Shoreline, Mangroves

ibis, white

(Eudocimus albus)

SSC

Mangroves, Shoreline

jay, blue

(Cyanocitta cristata)

Pine Flatwoods

killdeer

(Charadrius vociferus)

Shoreline

mallard

(Anas platyrhynchos)

Flying offshore

martin, purple

(Projne subis)

Pine Flatwoods

merganser, common

(Mergus merganser)

Shoreline

merganser, red-breasted

(Mergus serrator)

Pine Flatwoods

mockingbird, Northern

(Mimus polyglottos)

Pine Flatwoods, Parking lot, Mangroves

night-heron, black-crowned

(Nycticorax nycticorax)

Shoreline

night-heron, yellow-crowned

(Nycticorax violaceus)

Shoreline

osprey

(Pandion haliaetus)

SSC*

Flying offshore, Pine Flatwoods

oystercatcher, American

(Haematopus palliatus)

SSC

Shoreline

*Applicable only in MonroeCounty

Table 2. cont.

Birds

Common Name

Species Name

Designated Status FWC FWS

Location (Trail) / Habitat

parakeet, monk

(Myiopsitta monachus)

X

Flying over Pine Flatwoods

pelican, American white

(Pelecanus erythrorhynchos)

Flying offshore

pelican, brown

(Pelecanus occidentalis)

SSC E

Flying offshore

plover, black-bellied

(Pluvialis squatarola)

Shoreline

plover, semipalmated

(Charadrius semipalmatus)

Shoreline

robin, American

(Turdus migratorius)

Pine Flatwoods

sanderling

(Calidris alba)

Shoreline

sandpiper, least

(Calidris minutilla)

Shoreline

sandpiper, solitary

(Tringa solitaria)

Shoreline

sandpiper, spotted

(Actitis macularia)

Shoreline

screech-owl, Eastern

(Otus asio)

Pine Flatwoods, Parking lot

spoonbill, roseate

(Ajaia ajaja)

SSC

Shoreline

stork, wood

(Mycteria americana)

E E

Shoreline

tern, common

(Sterna hirundo)

Shoreline

tern, Forster's

(Sterna forsteri)

Shoreline

tern, least

(Sterna antillarum)

T E

Shoreline

tern, royal

(Sterna maxima)

Shoreline

tern, sandwich

(Sterna sandivicensis)

Shoreline

turnstone, ruddy

(Arenaria interpres)

Shoreline

vulture, black

(Coragyps atratus)

Flying Overhead, Pine Flatwoods

vulture, turkey

(Cathartes aura)

Flying Overhead

warbler, black-and-white

(Mniotilta varia)

Pine Flatwoods

warbler, blackpoll

(Dendroica striata)

Pine Flatwoods

warbler, Cape May

(Dendroica tigrina)

Mangroves

warbler, hooded

(Wilsonia citrina)

Pine Flatwoods

warbler, palm

(Dendroica palmarum)

Pine Flatwoods, Mangroves

warbler, prairie

(Dendroica discolor)

Pine Flatwoods

warbler, yellow-rumped

(Dendroica coronata)

Pine Flatwoods, Mangroves

waxwing, cedar

(Bombycilla cedrorum)

Pine Flatwoods

willet

(Catoptrophorus semipalmatus)

Shoreline

woodpecker, downy

(Picoides pubescens)

Pine Flatwoods

woodpecker, pileated

(Dryocopus pileatus)

Pine Flatwoods

woodpecker, red-bellied

(Melanerpes carolinus)

Pine Flatwoods

wren, Carolina

(Thryothorus ludovicianus)

Pine Flatwoods, Mangroves

yellowthroat, common

(Geothlypsis trichas)

Pine Flatwoods

Mammals

Common Name

Species Name

Designated Status FWC FWS

Location (Trail) / Habitat

armadillo

(Dasypus novemcinctus)

Pine Flatwoods

opossum

(Didelphis virginiana)

Pine Flatwoods

raccoon

(Procyon lotor)

Pine Flatwoods

mole, Eastern

(Scalopus aquaticus)

Pine Flatwoods

rabbit, marsh

(Sylvilagus palustris)

Pine Flatwoods

squirrel, Eastern gray

(Sciurus carolinensis)

Pine Flatwoods

dog

Canis familiaris

X

Entire property

cat

Felis catus

X

Workshop area

Table 2. cont.

Reptiles

Common Name

Species Name

Designated Status FWC FWS

Location (Trail) / Habitat

anole, brown

(Anolis sagrei)

X

Pine Flatwoods, Parking lot

turtle, snapping

(Chelydra serpentina)

Culvert on roadside

snake, black

Unknown

Roadside

snake, red rat

(Elaphe guttata)

SSC*

Mangroves

skink, southeastern-five lined

(Eumeces inexpectatus)

Pine Flatwoods

tortoise, gopher

(Gopherus polyphemus)

SSC T

Pine Flatwoods

gecko, indo-pacific

(Hemidactylus garnoti)

X

VisitorCenter

turtle, mud

(Kinosternon subrubrum)

Culvert by workshop area

turtle, box

(Terrapene carolina)

Pine Flatwoods

iguana, green

(Iguana iguana)

X

Driveway to workshop area

iguana, spiny-tailed

(Ctenosaura similis)

X

Pine Flatwoods at park entrance

* Applicable only in lower Florida Keys

Amphibians

Common Name

Species Name

Designated Status FWC FWS

Location (Trail) / Habitat

frog, greenhouse

(Eleutherodactylus planirostris)

X

Call heard in workshop area

frog, southern leopard

(Rana sphenocephala)

Culvert by entrance

treefrog, barking

(Hyla gratiosa)

Call heard from parking lot

treefrog, cuban

(Osteopilus septentrionalis)

X

Parking lot

treefrog, squirrel

(Hyla squirella)

Call heard in workshop area

frog, southern cricket

(Acris gryllus)

Call heard in workshop area

toad, southern

(Bufo terrestris)

Culvert by entrance

Fish

Common Name

Species Name

Designated Status FWC FWS

Location (Trail) / Habitat

killifish, marsh

(Fundulus confluentus)

Boardwalk creek, Culvert by entrance

killifish, gulf

(Fundulus grandis)

Boardwalk creek, Culvert by entrance

mosquitofish

(Gambusia holbrooki)

Culvert by entrance

moquitofish

(Gambusia sp.)

Boardwalk creek, Culvert by entrance

molly, sailfin

(Poecilia latipinna)

Culvert by entrance

Butterflies

Common Name

Species Name

Designated Status FWC FWS

Location (Trail) / Habitat

butterfly, gulf fritillary

(Argraulis vanillae)

Pine Flatwoods

butterfly, zebra

(Heliconius charithonius)

Pine Flatwoods

butterfly, black swallowtail

(Papilio polyxenes)

Pine Flatwoods

butterfly, cloudless sulphur

(Phoebis sennae)

Pine Flatwoods

butterfly, dorantes skipper

(Urbanus dorantes)

Pine Flatwoods

butterfly, great southern white

(Ascia monuste)

Pine Flatwoods

butterfly, spicebush swallowtail

(Papilio troilus)

Pine Flatwoods

butterfly, Eastern tiger swallowtail

(Papilio glaucus)

Pine Flatwoods

Designated Status

E- Endangered

X- Exotic

T- Threatened

SSC- Species of special concern


Last updated: April 14, 2015