Laws & Policies
Enabling Legislation
De Soto National Memorial was formed by Act of Congress in 1948. Here is the legislation:
U.S. Code TITLE 16 > CHAPTER 1 > SUBCHAPTER LXI > § 450dd

For the purpose of establishing an appropriate memorial to Hernando DeSoto, the Secretary of the Interior is authorized, in his discretion, to acquire on behalf of the United States, by donation, by purchase with donated funds when purchaseable [1] at prices deemed by him reasonable, or by condemnation with donated funds, such lands and interests in land within an area of not to exceed thirty acres as he may select in the vicinity of Tampa Bay and Bradenton, Florida, and to construct thereon a suitable memorial structure, together with such connecting roads and public facilities as may be desirable.

[1] So in original. Probably should be "purchasable."
Title 18 United States Code Section 930
As of February 22, 2010, a new federal law allows people who can legally possess firearms under applicable federal, state, and local laws, to legally possess firearms in this park.
It is the responsibility of visitors to understand and comply with all applicable state, local, and federal firearms laws before entering this park. As a starting point, please visit our state's website:http://licgweb.doacs.state.fl.us/weapons/index.html
Federal law also prohibits firearms in certain facilities in this park; those places are marked with signs at all public entrances.
De Soto National Memorial Bans the possession of Firearms in their Visitor Center and HQ Facilities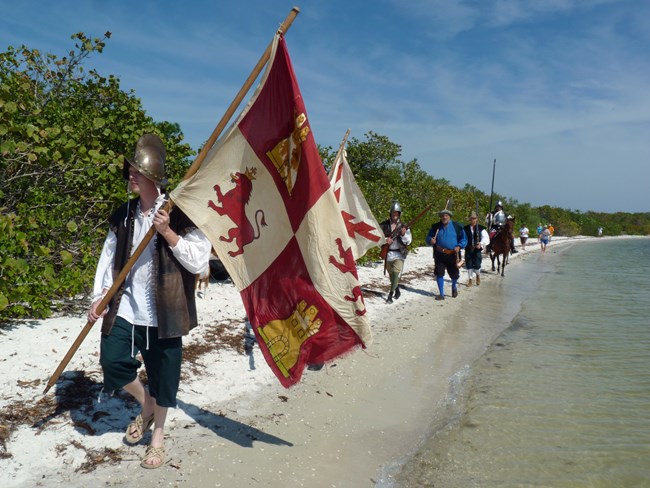 PDF file: De Soto National Memorial Long Range Interpretive Plan.



Last updated: May 28, 2021