Kids & Youth
For Kids
The De Soto Visitor Center has a great hands-on exhibit for young and old alike. This exhibit allows you to try on pieces of armor and imagine marching in De Soto's army. Conquistadors wore up to 80 pounds of armor and often trekked 12 miles per day.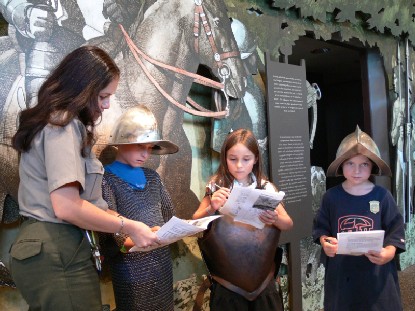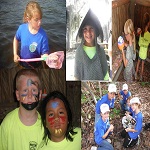 Join us at DeSoto National Memorial
For our Annual Junior Ranger Summer Camp
Junior Ranger Summer Camp is an educational and fun way for your kids to learn about Florida's history and experience the outdoors. Kids will be instructed by Park Rangers about what it means to be a Junior Ranger and discover the importance of America's National Parks.
Open enrollment — We offer open enrolment for children between the ages of 6 to 11, who are interested in exploring and being outdoors!
Registration is free — That is right all registration and activities are 100% free of charge.
Experience History — Junior Rangers will learn about all aspects of the place they live and the National Parks. Topics range from Florida's environments, orienteering, archaeology, and Florida's history.
Two Weeks to Choose From— Junior Ranger Summer Camps run for one solid week Monday through Friday, 9:00am to Noon. The first week offered for camp will be June 22nd through 26th. There will be a second week offered July 27th through 31st. Sign up for both weeks will begin Sunday, June 1st. There will 20 spots open either week so sign up early!
Registration is easy— Register your child beginning June 1st by visiting our web site www.nps.gov/deso. Click on the Junior Ranger Summer Camp link and download the registration form, or pick one up at the Visitor Center.
Reservations will only be taken over the phone or in person at the visitor center by calling 941-792-0458.

Please ask for a Ranger , N

o Online or e-mail registration is allowed .

Parents are only allowed to register their own children.

Completed registration forms must be

turned in the week before their camps start, or they will be dropped for one on the waiting lists.
Hurry space is limited and camp days do fill up quickly, due to the popularity of the camps no spaces will be held under any circumstances!
All spots are filled on a first come first serve basis. Last year both camps filled within two days!
What the Junior Ranger Will Need— We Ask that parents please provide the following for their Junior Rangers:
1.Re-usable Water Bottle
2.Hat
3.Sunscreen
4.An end of camp snack
5.Closed toed shoes or sneakers (No flip flops or open toed sandals)
On Water Day Junior Rangers will need:
1.Closed toed and heel water shoes ( No flip flops of sandals)
2.A Towel
3.All other daily expected items
To download registration forms please Click Here or visit our Facebook page, Keyword De Soto National Memorial