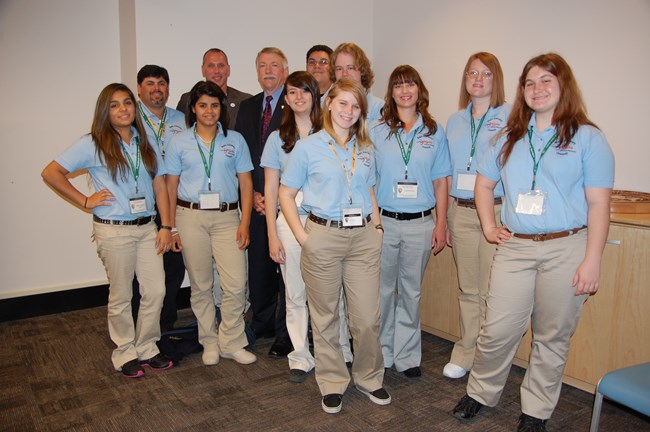 De Soto National Memorial Youth Advisory Council
The De Soto National Memorial Youth Advisory Council (YAC) is an organization geared towards engaging America's youth with their National Parks. De Soto's YAC consists of high school students who serve as catalysts for this goal. The members of the YAC volunteer their time directly through hands-on in-park activities, social media, and serve in an advisory role on the council. Their input helps park management make decisions that will better serve local youth and encourage future park stewards.
″ Members commit to at least 4 hours of volunteering per month. All Volunteer hours count as Federal Community Service hours, which count towards Brighter Futures Scholarships.
″ Members attend monthly meeting of the YAC at De Soto National Memorial. These meetings are designed to promote fellowship amongst YAC members
and allow for the sharing of ideas.
″ Members engage with social media such as Facebook and Twitter regarding the council's activities, events at De Soto, or the National Parks in general. This helps in the spreading of ideas amongst today's youth and help the parks stay relevant in the ever changing landscape of today's technical evolution.
If you or anyone you know is interested in taking a role in the future of America's National Parks the YAC is waiting.
Events and activities YAC members can participate in include:
" Kayaking Trips
"Annual YAC camp out
"Desoween: work in one of the "Scare Zones" at the parks annual history themed scary night hike.
"Winter Luminary Walk and Winter Festival
"Living History events at Camp Uzita
"De Soto National Memorial Float in the Heritage Festival Parade
"Ranger Mentorship programs at De Soto National Memorial: for those who are interested in a future with the NPS. designed to let youth follow Park Rangers and open them to all possible employment opportunities in the Park Service.
"Annual Advisory Council Trip: for those students chosen to be part of the Advisory Council.
Join the YAC today by calling 941-792-0458.
Visit the YAC on Facebook by clicking here.