De Soto BARK Ranger Program
Become a De Soto National Memorial B.A.R.K. Ranger!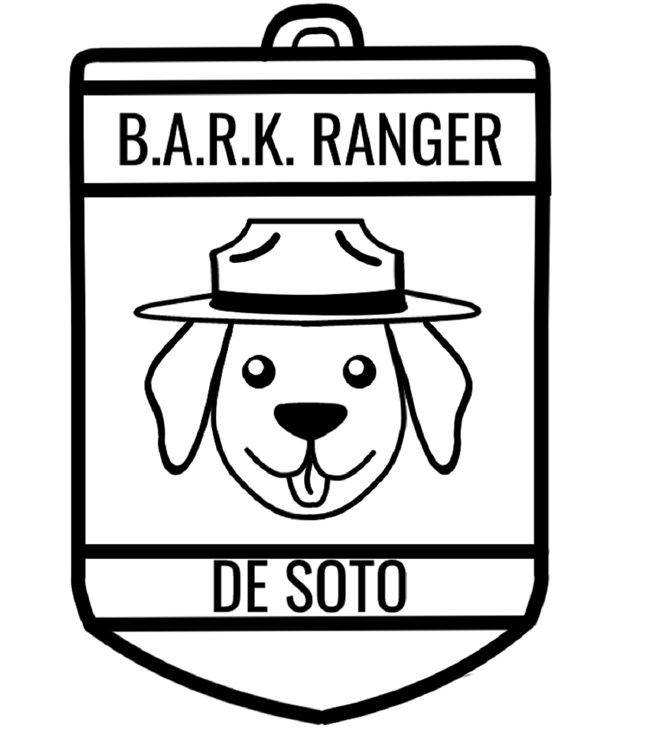 De Soto National Memorial is introducing its new B.A.R.K. Ranger program!
Starting Sunday, August 25th, dogs will have the opportunity to become De Soto B.A.R.K. Rangers! The B.A.R.K. Ranger program introduces visitors to responsible behavior on the park's trails and encourages the community to explore and learn more about this great resource with their dogs.
How Do You Become a B.A.R.K. Ranger?
1) Bag Your Poop
Find our Two Poop Bag Stations. We have provided bags for your dog's waste in two easy to find spots. This reminds owners that it is important to remove all pet waste from the park. This prevents toxic substance from contaminating the park and its resources.
Take a picture of your dog on a leash. This shows that you value your dog's safety while exploring the park and its trails. Please snap a picture on your camera or phone, and show it to a Park Ranger or volunteer at the Visitor Center.
3) Respect Others and Wildlife
Say "Hello" to another visitor. Part of being a B.A.R.K. Ranger is being polite and friendly to other visitors and pets. Practice saying hello or spark up a conversation with someone new.
4) Know where you can go
Find the Dog watering stations. Hydration is necessary inside the park. Check out our pooch-watering fountain at the north side of the Visitor Center. With the exception of service animals, dogs are not permitted in the Visitor Center. Short-term "barking" areas are located outside the Visitor Center and picnic area.
So pick up your B.A.R.K. Ranger pamphlet, complete the tasks, and earn your dog the De Soto B.A.R.K. Ranger Dog Tag.
The B.A.R.K. Ranger program is offered year-round and dogs are able to become De Soto B.A.R.K. Rangers at any time. For more information, please stop by our Visitor Center and ask about the B.A.R.K. Ranger program!
Last updated: August 20, 2019