De Soto B.A.R.K. Ranger Program
Become a De Soto National Memorial B.A.R.K. Ranger!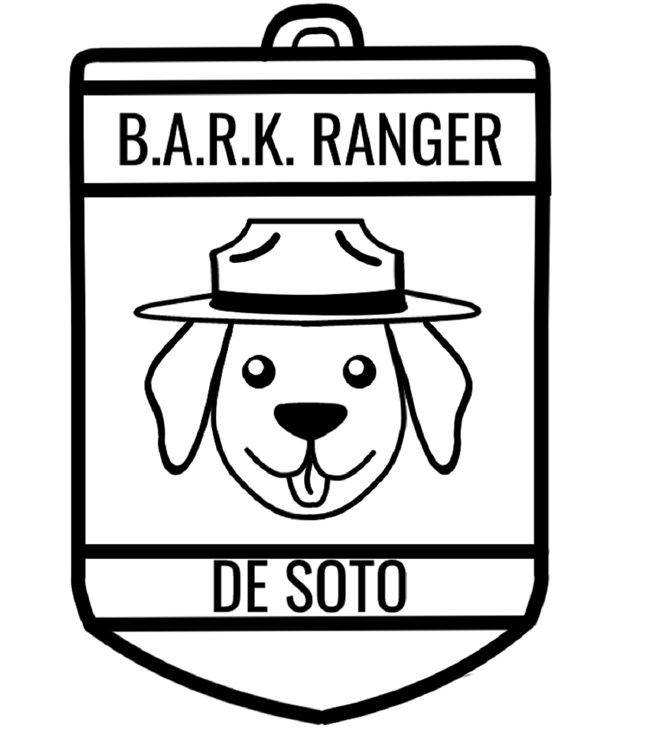 Become a De Soto National Memorial B.A.R.K. Ranger!
What does it mean to become a B.A.R.K. Ranger?
Our De Soto B.A.R.K. Rangers learn how to practice safe and responsible dog etiquette at our park by following the B.A.R.K. Rules, and do their best to set a good example for other dogs and dog-walkers walking at the park. By doing this, they ensure that they minimize risk to themselves and others while on the trail, and make sure to protect our nation's great resources, just like their human companions. Additionally, they receive a free B.A.R.K. Ranger Dog Tag upon completion of the B.A.R.K. Ranger Program that they can show off to all their other dog friends!
What does B.A.R.K. stand for?
1) Bag Your Poop
At De Soto National Memorial, we know that you know the importance of bagging dog waste, but that sometimes you might forget a bag. That is why we have provided bags for your dog's waste in three easy to find spots in our park. Not only does this keep the park clean for everyone including other dogs, it also prevents toxic substance from contaminating the park and its resources.
2) Always use a leash
We know that many dogs are friendly, but not every person, animal, or other dog at our park enjoys dogs. We know that you value your dog's safety while exploring the park and its trails, and making sure you keep a leash on them helps maximize that safety.
3) Respect Others and Wildlife
Dogs can be very curious when they are in new places, especially if they see an animal that is unfamiliar to them. However, the animals at our park are not all friendly to dogs. By letting your dog walk off of trails, this not only damages resources, but can possibly lead to your furry friend step on something that could hurt them, ingesting harmful plants, or being harmed by an animal.
4) Know where you can go
All trails at De Soto National Memorial are open to dogs and dog-walkers. However, dogs are not permitted in the Visitor Center, with the exception of service animals. Short-term "barking" areas are located outside the Visitor Center and picnic area for the dog's owners who need to come inside.
Okay, got it! So how does my furry friend become a B.A.R.K. Ranger?
The B.A.R.K. Ranger program is offered year-round and dogs are able to become De Soto B.A.R.K. Rangers at any time. So pick up your B.A.R.K. Ranger pamphlet, complete the four tasks that relate to the B.A.R.K. Rules, and earn your dog the De Soto B.A.R.K. Ranger Dog Tag. For more information, please stop by our Visitor Center and ask about the B.A.R.K. Ranger program!

**De Soto National Memorial is currently in a phased reopening. The parking lot and trails are open during normal business hours. However, the Visitor Center remains closed. To request a digital copy of the B.A.R.K. Ranger pamphlet, email us at deso_interpretive_staff@nps.gov. Complete the four activities, send us photos, and we'll send you a B.A.R.K. Ranger Dog Tag!!**
Last updated: June 8, 2020