Places To Go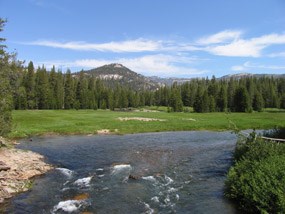 THE MIDDLE FORK of the SAN JOAQUIN RIVER
The Middle Fork of the San Joaquin River is the life of the monument, flooding the lush meadows, providing valuable habitat for flora and fauna, and adding to the diversity and beauty of the entire valley. The river and its surrounding banks provide opportunities for fishing, picnicking, or simply just a place to enjoy the sounds of nature. River access is provided at multiple locations throughout the monument. Soda Springs Meadow is one of the best places to observe seasonal changes in the monument. As summer progresses, the river's depth and flow wanes, revealing previously submerged gravel bars and the soda springs. For current river flow at the monument, click here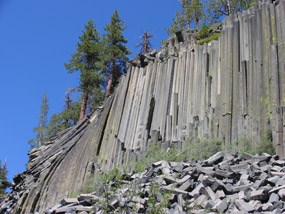 DEVILS POSTPILE
Approximately 80,000 years ago, a lava flowed from an unknown location upstream from the location of today's monument. As it flowed down the valley, it eventually ran into an obstruction which served as a dam to the lava's path. Pooling up to 400 feet behind the natural dam, the lava cooled. Conditions were such that the lava--that was incredibly uniform in its mineral composition--cooled at a very slow rate. As it cooled, it contracted and cracked, forming hexagonal columns. 65,000 years later, a glacier flowed through the same valley, revealing the sides and tops of the columns. Glacial polish can still be seen today at the top of the formation.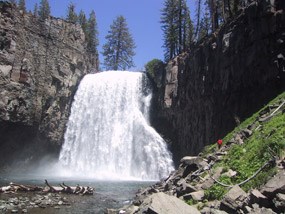 RAINBOW FALLS
Just a 2.5 mile walk from the monument Ranger Station, Rainbow Falls is the highest waterfall on the Middle Fork of the San Joaquin river. Plunging 101-feet down, the falls are aptly named for the many rainbows that appear in its mist on sunny summer days. Visitors interested in a moderate day-hike can make a loop, embarking from the Ranger Station's trailhead to the falls and returning via Shuttle Bus Stop 9 (Rainbow Falls Trailhead) or Shuttle Bus Stop 10 (Reds Meadow Resort). The bus can return hikers to the monument's ranger station, other bus stops in the Reds Meadow Valley, or the Adventure Center. Be sure to bring plenty of water and sunscreen for every member in your hiking group as the walk to the Rainbow Falls is very hot, dry, and has little shade.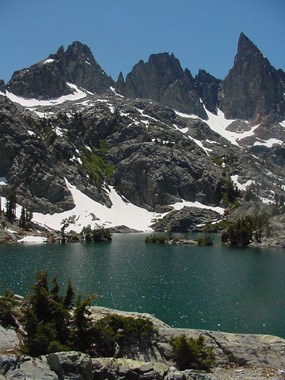 THE HIGH SIERRA
Devils Postpile National Monument also serves as a starting point for many backcountry trips. Surrounded by both the Ansel Adams and John Muir Wildernesses, the monument provides a portal to some of the most pristine backcountry destinations in the region.
Permits are required for all overnight trips in wilderness areas. Day hikes do not require permits. Visitors planning on a backpacking trip out of the Reds Meadow Valley, including Devils Postpile National Monument, must obtain wilderness permits from the Inyo National Forest. These are available at the Mammoth Lakes Welcome Center or any other Inyo National Forest permit center, and reservations must be made online at Recreation.gov. Devils Postpile National Monument does not issue wilderness permits. The most current regulations and trail quotas can be found by visiting the Inyo National Forest's website or by phoning the Inyo's Wilderness Permit Office at (760) 873-2483.


Last updated: March 16, 2020