Basic Information
Welcome to Devils Postpile National Monument!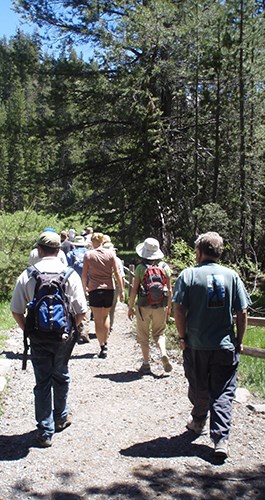 Devils Postpile is typically open between mid-June and mid-October. During that time, there are many ways to enjoy your national monument. Use the links below to help you find all of the basic information you need to plan your visit.
Operating Hours and Seasons
Depending on weather, Devils Postpile is generally open from mid-June through mid-October. Opening and closing dates can vary by several weeks.
Between mid-June and mid-September a mandatory shuttle bus brings visitors to the monument and the rest of the Reds Meadow Valley including the Rainbow Falls Trailhead.
Visitors should be prepared for any type of weather. Temperatures can range from below freezing to nearly 90 degrees, and sometimes in the same day! During the summer, afternoon thunderstorms are common.
Fees
Devils Postpile does not charge an entrance fee, but there are still fees associated with a visit to the monument. Visit the
shuttle bus page
for information on fees for the mandatory shuttle bus (mid-June through mid-September) and for visits outside of the mandatory shuttle bus season.
Last updated: August 8, 2021