Nearby Attractions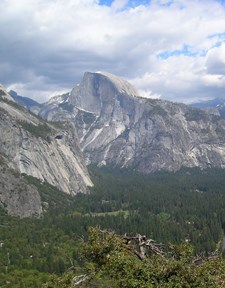 YOSEMITE NATIONAL PARK
Yosemite National Park is located about an hour and a half from Devils Postpile, and a trip to the valley floor is a short 3 hour drive. Backpackers can hike to Yosemite from Devils Postpile in about 32 miles! During the winter travel to Yosemite Valley is much more time consuming due to the road closures over high passes. Check the road conditions before planning a trip as snow can last well into June and arrive as early as October. Yosemite provides all the grandeur of the Sierra from the western side along with giant sequoias, granite domes, and a rich history of conservation. Visit Yosemite National Park's website for more information about visiting.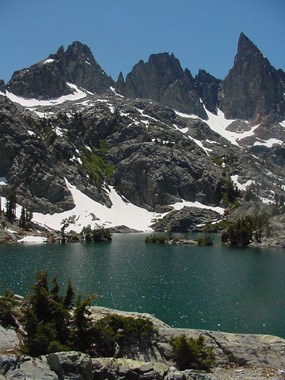 HIGH SIERRA WILDERNESS
The Postpile also serves as a starting point for many backcountry trips. Surrounded by both the Ansel Adams and John Muir Wildernesses, the Monument provides a portal to some of the most pristine backcountry destinations in the region.
Permits are required for all overnight trips in wilderness areas. While Devils Postpile National Monument can issue permits through a special arrangement with the Inyo National Forest, it is best for visitors planning on a backpack trip in the area to contact the Inyo's Wilderness Permit office directly. The most current regulations and trail quotas can be found by visiting the Inyo National Forest's website or by phoning the Inyo's Wilderness Permit Office at (760) 873-2485.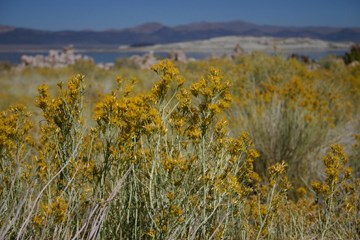 MONO LAKE
Mono Lake is located just outside of Lee Vining and is an amazing natural wonder to behold. The lake is more salty than the ocean and its population of brine shrimp provides an extremely important food source for migratory birds. The scenic area surrounding the lake is a tremendous example of geological and volcanic activity that has shaped the area. It is known for its bizarre formations of calcium carbonate called Tufa Towers. Visit the Inyo National Forest website for more information about Mono Lake.
MANZANAR NATIONAL HISTORIC SITE
Located south of Independence, CA, Manzanar National Historic Site tells the story of the more than 110,000 men, women, and children who were forced to leave their homes and were detained in remote, military-style camps. Manzanar War Relocation Center was one of ten camps where Japanese American citizens and resident Japanese aliens were interned during World War II. The site features a museum and visitor center, bookstore, daily videos, and site tours. Visit https://www.nps.gov/manz/index.htm for more information.


Last updated: March 1, 2013