Bicycling Information
Fees for Cyclists
You can bike down to Devils Postpile with no fee. If you choose to take the shuttle back out of the valley, you must pay the transportation fee. Shuttle buses take bicycles if space is available.
Road Biking
The Reds Meadow Road beyond Minaret Vista twists and turns for about 6.5 miles with 2,000 of elevation loss down to Devils Postpile. The road is paved, however, it is very narrow and cyclists should be aware of debris. It is a beautiful and challenging ride, particularly for those who make the trek back up to Minaret Vista. For those looking for just a downhill ride, consider riding the shuttle bus back to your vehicle at the Adventure Center at Mammoth Mountain.
Mountain Biking
Although trail riding is not permitted on any trails in the monument, check at the Mammoth Welcome Center for information about mountain bike trails in the town of Mammoth Lakes and at Mammoth Mountain.
Safety
While riding down Reds Meadow Road, use extreme caution and expect large RVs, stock trailers, and shuttle buses. Bikes are subject to the same speed limits as all other vehicles on the roadway. Please be cautious of debris, which frequently litters the road.

To avoid head-on collisions, do not pass stopped or slowed traffic as they may be waiting for an oncoming vehicle to pass safely.
The speed limit on the road is 15 mph for vehicles and cyclists.
Downhill traffic must yield to uphill traffic and must stay to the right.
The road is narrow, winding, and steep. Make sure brakes are in good shape before beginning your descent. -
Riding into the valley during peak visitation times (11 am to 4 pm) is not recommended.
Buses will pick up cyclists only at the Adventure Center and at Reds Meadow Resort if space is available. - Buses can only take two bicycles per bus and only if the bus has space.
Trail riding is not permitted anywhere in Reds Meadow Valley.
Helmets are recommended for all riders and are required for riders under 18 years of age.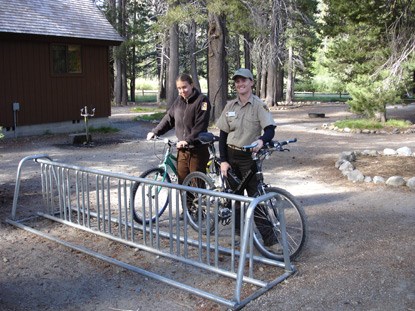 Last updated: October 25, 2021