Natural Features & Ecosystems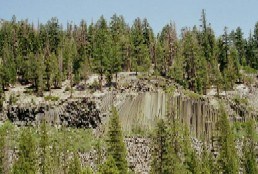 Devils Postpile National Monument was established because of two important geophysical features: the postpile itself and RainbowFalls. The postpiles tower as a sheer wall of polygonal basalt columns up to 60 feet high, and glacial polish is evident on top of many of the columns.
Rainbow Falls is a spectacular waterfall that exists near the southern end of the monument on the San Joaquin River. The river changes in character many times throughout its journey through the monument, evolving along its course from a series of broad low-gradient meanders to scattered pools and fast-flowing rapids, cascades, and falls.
Last updated: February 28, 2015