Volunteer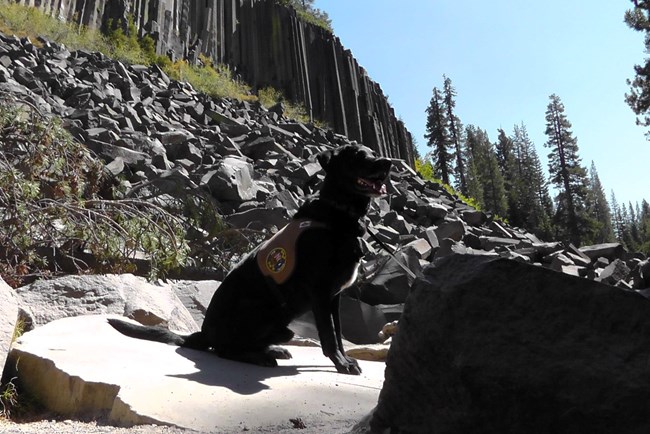 There are many opportunities to volunteer for Devils Postpile National Monument. The monument partners with volunteers of all ages for a variety of projects. Below are just a few of the opportunities available in the monument. If you don't see anything that sparks your interest, but would still like to volunteer your time, please contact us via email or phone (760-934-2289) or fill out this application so we can work to match your skills with a project. All volunteers receive free entry into the Reds Meadow Valley and Devils Postpile during their volunteer time. Volunteers who contribute 250 hours (cumulative from any federal volunteer position) are eligible for a free Interagency Volunteer Pass. All volunteers will also receive free training for their selected tasks.
Paw Patrol
Devils Postpile is one of a few dog friendly national park sites. This program invites volunteers and their canine companions to patrol monument trails to provide information and interpretation to monument visitors with and without dogs. This is a great opportunity to do something fun with your dog and help out the monument! All dogs must pass the AKC Canine Good Citizen Certification test or have a comparable therapy or other working dog certification or title prior to patrolling. All handlers must either attend specific Paw Patrol Volunteer training or other monument training. For more information about this exciting new program, send us an email, call our volunteer coordinator at 760-709-0427.
Monument Operations Volunteers
Qualified volunteers are always needed to help with daily operations. Volunteer positions are available in visitor services and interpretation, trail work, buildings and maintenance, trail patrol work, science and resource management and digital media. Please contact our volunteer coordinator at 760-709-0427 or email us if you're interested in any of these opportunities.
Internships through the Student Conservation Association
Devils Postpile partners with the Student Conservation Association to provide college students and those recently graduated from college diverse opportunities to volunteer in the monument. Interns earn a stipend and are involved in projects ranging from visitor services and education to public safety and risk management. For more information, contact the monument directly or visit the SCA website. Most internships are available in the summer season, but other opportunities may be available.
Scout Ranger Programs
Service projects or other opportunities may be available for Girl or Boy Scout Troops looking to work in the national monument. These programs is designed to promote learning and stewardship in our national parks. To participate, please contact the monument or email us.
Bird Survey Volunteers
Devils Postpile is looking for volunteers with good eyes and ears for bird identification to assist with bird surveys within the monument this summer. Volunteers should be proficient in identifying Sierra birds by sight, song, or call. This is a great opportunity to sections of the monument less traveled! Some moderate off-trail hiking will be required to complete the bird surveys. Map reading and basic GPS skills are helpful. Entry into the monument will be free for registered volunteers. Campsites or rustic housing may be available.
Last updated: April 19, 2019