Meet the Artists
Frank Gehry - Memorial Designer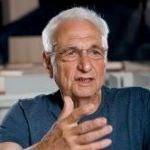 In 2009, in a competitive process under the guidelines of the General Services Administration's Design Excellence Program, renowned architect Frank Gehry was selected to design the Eisenhower Memorial. Declared by Vanity Fair magazine to be "the most important architect of our age," Frank Gehry has built an architectural career that has spanned five decades and produced dozens of acclaimed public and private buildings across the globe. Raised in Toronto, Canada, Frank Gehry moved with his family to Los Angeles in 1947. Mr. Gehry received his Bachelor of Architecture degree from the University of Southern California in 1954, and he studied City Planning at the Harvard University Graduate School of Design. Frank Gehry's work has earned several of the most significant awards in the architectural field, including: the Pritzker Prize, the National Medal of Arts, the American Institute of Architects Gold Medal, and the Royal Institute of British Architects Gold Medal.
Sergey Eylanbekov - Sculptor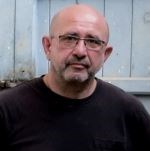 Sculptor Sergey Eylanbekov has designed in consultation with Gehry, the sculptures that will constitute an integral part of the Memorial Core. Eylanbekov, a world-renowned sculptor, was born in Russia. Growing up in the Soviet Union, he attended Moscow School of Fine Arts and was then accepted into the prestigious Surikov Academy of Fine Arts, from which he graduated with honors. During the tumultuous period of change that occurred in the 1980s during the Gorbachev era, Eylanbekov decided to start life over in the United States, becoming a U.S. citizen. In the past twenty years, his artwork has garnered praise all over the world.
Tomas Osinski – Tapestry Artist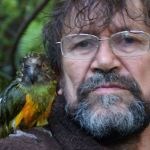 An artist, architect, and industrial designer, Tomas Osinski has collaborated with Gehry on many projects, including the Delft porcelain fountain at the Disney Concert Hall in Los Angeles. Osinski, an American citizen, was born in Poland and attended the Visual Art High School in Warsaw. He subsequently obtained a Master's Degree in Industrial Design from the Academy of Fine Art, also in Warsaw. Osinski's art has been featured in individual shows in Warsaw, Poznan, London, Lodz, and Los Angeles and collected by The Museum of Contemporary Art, Los Angeles; The Museum of Contemporary Art in Lodz, Poland; and by several private collectors.
Nick Benson - Inscription Artist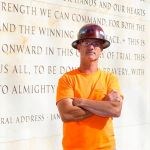 Nicholas Waite Benson began working at the John Stevens Shop at fifteen under his father, John Everett Benson. By the age of eighteen, he was carving commissioned work from his father's designs. In 1987, he began an intensive year of study in Switzerland at the Kunstgewerbeschule, Schule für Gestaltung, Basel. He returned to the U.S. in 1988 and continued to work under John Benson. Upon John's retirement in 1993, Nicholas took over as owner and creative director of the John Stevens Shop where he continues to work to the high standards set by his predecessors. He designed and carved inscriptions for the World War II Memorial and Martin Luther King, Jr. Memorial on the National Mall in Washington, C, and the Roosevelt Memorial, Roosevelt Island, New York City. In 2010, Benson was awarded a MacArthur Fellowship.
Last updated: September 22, 2020