Welcome to the Dwight D. Eisenhower Memorial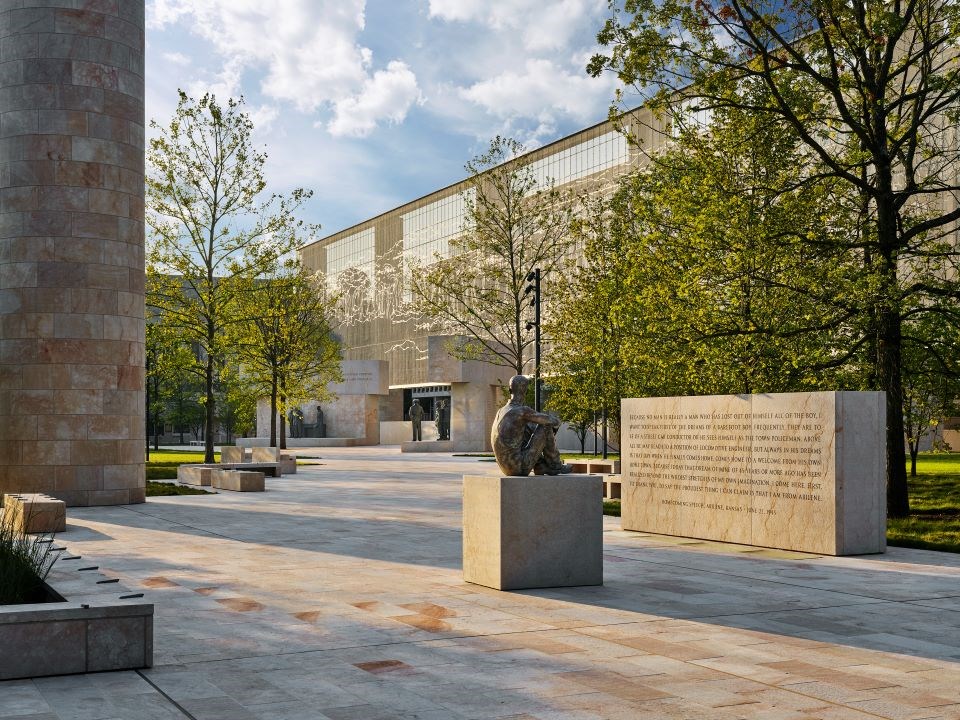 Located at the base of Capitol Hill, the Dwight D. Eisenhower Memorial is surrounded by the U.S. Department of Education, the Federal Aviation Administration, Voice of America, and the U.S. Department of Health and Human Services — all institutions to which Eisenhower was closely connected. Together, these buildings demonstrate Eisenhower's broad promotion of improved national infrastructure, the foundation upon which he worked to build "a peace with justice in a world where moral law prevails."
At the center of the site is the contemplative memorial space where Eisenhower's legacy unfolds. Heroic-sized bronze sculptures, stone bas reliefs, and quotations from his most famous speeches and addresses celebrate Eisenhower's contributions to our nation as Supreme Commander of the Allied Expeditionary Force in World War II and as the nation's 34th President.
General Eisenhower is commemorated in a bronze sculpture inspired by the famous photograph taken with the Army's 101st Airborne Division before their Normandy invasion. Behind the sculptures is a bas relief depicting the landings at Normandy on D-Day, June 6, 1944.
Eisenhower as the 34th President of the United States is commemorated in a bronze sculptural grouping. Flanking the president are figures representative of civilian interests and military power, with Eisenhower firmly in charge of balancing the two forces. Behind the sculptures is a map of the world in bas relief symbolizing Eisenhower's internationalism and role as a world statesman.
A life-sized sculpture of young Eisenhower and an inscription excerpted from his "Abilene Homecoming Speech" connect with Eisenhower's personal story as a humble citizen, raised in America's heartland, and welcomes visitors as they enter the memorial at the northwest plaza.
The memorial is framed by a unique transparent tapestry which features an image of France's Normandy coastline made from artistically woven stainless steel cable. The iconic Pointe du Hoc landmark featured in peacetime symbolically represents the peace Eisenhower won as Supreme Commander of the Allied Expeditionary Force in World War II, and the peace he kept and nurtured as the 34th President during a unique time when the United States emerged onto the global stage.
Through self-sacrifice, dedication, and belief in the American spirit, Dwight D. Eisenhower truly and positively shaped our nation in countless ways.
Last updated: March 29, 2023