The 2017 Great Wright Brothers Aero Carnival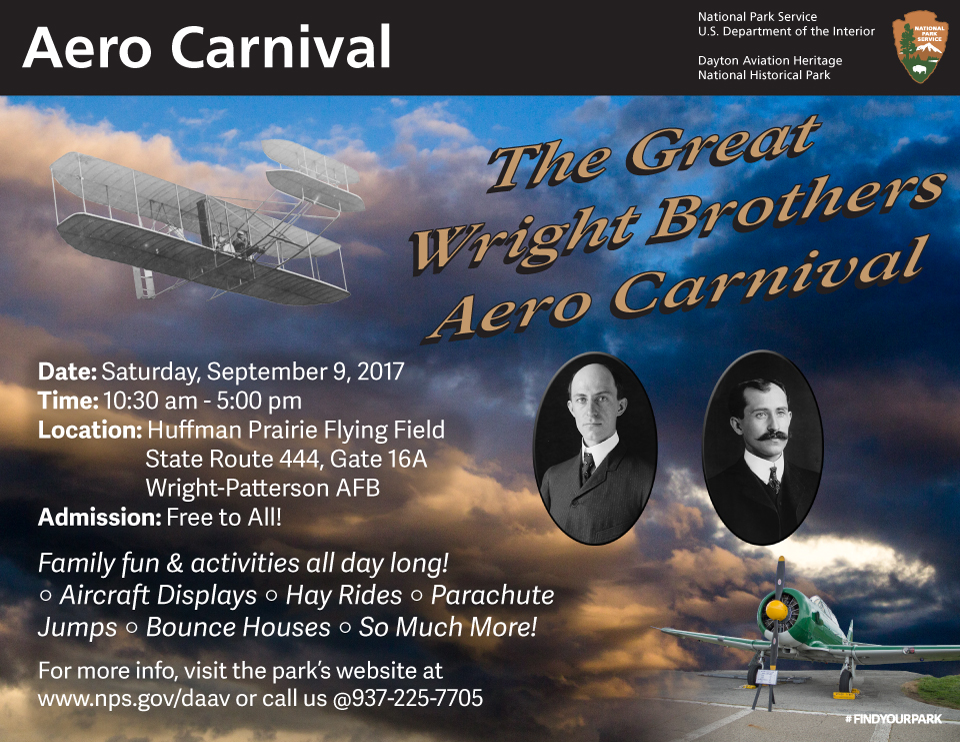 News Release Date:
March 3, 2017
Contact: Bob Petersen, 937-225-7705
The 2017 Great Wright Brothers Aero Carnival
The Aero Carnival celebrates the general time period of the Wright brothers going from the 1890's to the 1930s' and 40's. The event showcases the work of the brothers in the development of practical flight and highlights some of the changes that have occurred since then. The event provides a fun way to explore the Flying Field, its environment, and the time period the brothers lived in. It also is a way for organizations with similar purposes to reach out to the general public. Huffman Prairie Flying Field is where Wilbur and Orville Wright turned their idea of powered flight into a practical, useable machine between 1904 and 1905. It is where the brothers trained the next generation of aviators between 1910 and 1916 and today the area is part of Wright-Patterson Air Force Base.  
2017 marks the 100
th
 anniversary of Wilbur Wright Field and McCook Field, both predecessors to Wright-Patterson Air Force Base. There will be a number of exhibits focused on base history and on some of the activities that are taking place today.  
Other activities include bouncy houses and carnival games for the kids and a simulator of the 1911 Wright Model B airplane. There will be exhibits and displays by a number of organizations and agencies from throughout the Miami Valley. There will be historic aviation films shown in the replica hangar and an opportunity to build and launch model rockets. There will be several static aircraft on display including a replica of the Wright Model B. There will be sheep herding demonstrations, hay rides, and a variety of activities for folks of all ages. Weather permitting; there will be two parachute jumps during the event.  It all happens on Saturday, September 9
th
!  
The Aero Carnival is presented by Dayton Aviation Heritage National Historical Park in partnership with Wright-Patterson Air Force Base and the National Aviation Heritage Alliance. For more information call the park at 937-225-7705.
Last updated: March 3, 2017