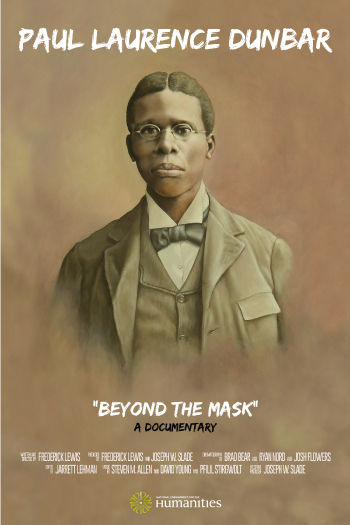 News Release Date:
March 7, 2017
Contact: Jewel Harris, 937-225-7705
Paul Laurence Dunbar: Beyond the Mask
On Saturday, April 1
st
, Dayton Aviation Heritage National Historical Park is proud to be hosting an exclusive showing of a brand-new documentary film on the life of Paul Laurence Dunbar.
Paul Laurence Dunbar: Beyond the Mask
is a new film showcasing the life and legacy of the internationally renowned poet. Written and directed by Frederick Lewis, and co-produced by Lewis and Joseph Slade, the film took more than eight years to make and received support from the Ohio Humanities Council and major funding from the National Endowment for the Humanities.  
The film will be shown in the auditorium of the Wright-Dunbar Interpretive Center at 16 South Williams Street in Dayton. There will be two screenings for the public on April 1
st
. The first screening will begin at 1:00 PM and the second screening will begin at 4:00 PM. The film is approximately two hours long. After each screening, the film's producers will be on hand to talk about the film and to answer questions from the audience.  
This special screening is free for the public to attend, but due to limited seating in the park's auditorium, an RSVP is requested. To RSVP for this event, please send the park an
email
with "
Film RSVP
" in the subject line. Please be sure to include your name, how many people total (including yourself) will be attending and which screening time (1:00 P.M. or 4:00 P.M.) you and your guests will be attending. You can also call the park at 937-225-7705 to RSVP.  A light assortment of refreshments will be available at each screening.  
Paul Laurence Dunbar: Beyond the Mask
features Bing Davis, James Pate, Herbert Martin, LaVerne Sci, and a host of others, and is a production of the Central Region Humanities Center at Ohio University.  For more information on the film, visit the 
film's website
.
Visit the 
Directions Page
 for directions & maps to the park.
Visit the 
Dunbar House Historic Site
 page for information about the Paul Laurence Dunbar House Historic Site.