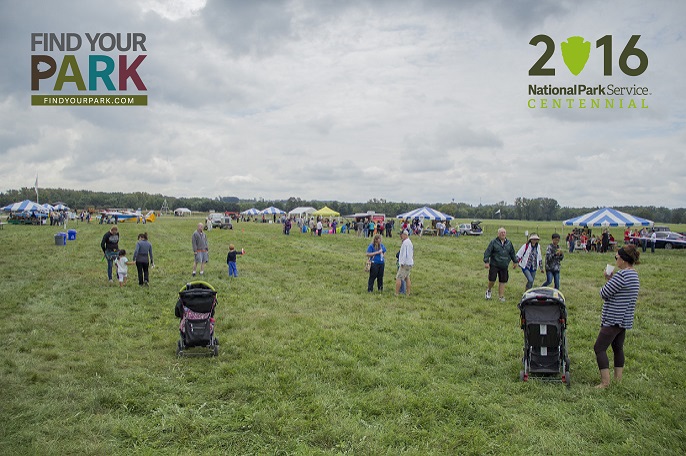 News Release Date:
September 17, 2015
Contact: Jewel Haskins, 937-225-7705
Dayton Aviation Heritage NHP Welcomes Centennial Volunteer Ambassador
Will Engage New Audiences, Promote Stewardship for National Park Service's 100th Anniversary
DAYTON – Michael Harris, of New Carrollton, Maryland, arrived in Dayton in June to help prepare Dayton Aviation Heritage National Historical Park plan and celebrate the National Park Service's 100th anniversary in 2016. He is one of 70 energetic, young
Centennial Volunteer Ambassador
interns recently selected to spend the next year connecting local communities to parks through volunteer group service opportunities, starting with his participation in the Great Wright Brothers Aero Carnival, an early celebration of National Public Lands Day, which was held at the Huffman Prairie Flying Field on September 12.
The Volunteer Ambassador Program is a partnership between the National Park Service and the
Student Conservation Association
(SCA) and supports the Department of the Interior's Play, Learn, Serve, Work
Youth Initiative
to expand educational, volunteer, and career opportunities for millions of youth and veterans on the nation's public lands.
Michael has also been hard at work coordinating a somewhat adventurous Centennial project entitled "Where's Wilbear?" ― a unique reverse Flat Stanley project wherein teddy bear, "Wilbear Wright", honorary trustee of the National Aviation Heritage Alliance, Aviation Trail, Inc., and official volunteer of Dayton Aviation Heritage National Historical Park, travels to 4th grade classrooms throughout the country chronicling his journeys and adventures by way of photos, journal entries and on social media. Wilbear's student guardians will be encouraged to use hashtags the #WheresWilbear and #NPS100 as he travels the country. The goal here is to introduce Wilbear and Dayton Aviation Heritage National Historical Park to at least 100 classrooms by the end of 2016. Park Superintendent Dean Alexander states, "Wilbear is the perfect representative to highlight the National Park Service and its upcoming centennial."
As a Centennial Volunteer Ambassador, Michael hopes to adopt a greater command for project coordination and leadership. "This is the first major project in which I am completely accountable for its overall success. I look forward to the challenge."
"The National Park Service's Centennial celebration will focus as much on our future as on our past," said National Park Service Director Jonathan B. Jarvis. "We are excited that young people, including our Centennial Volunteer Ambassadors, are stepping up as the next generation of conservation leaders. I know this opportunity will enable them to form lasting connections to national parks and the natural world. I also know that their contagious passion will inspire many others to do the same." 
SCA President and CEO Jaime Berman Matyas notes that in addition to its role in the Centennial, the volunteer ambassador program is an important part of SCA's leadership development curriculum."Transformative experiences like these yield crucial leadership skills and life lessons that empower these young people for lifelong success," Matyas said. "These service opportunities are also potent career pathways and, together, SCA and NPS are creating a workforce for the second century of national parks."