History at Sunset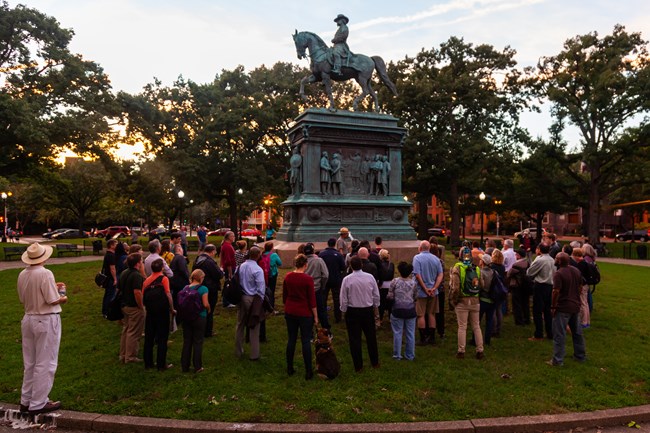 Summer 2021
Join the National Park Service on select Friday evenings at 6:00 and 6:30 PM for special programs focusing on the rarely told stories of Civil War Washington D.C. Programs run approximately ninety minutes and are free to the public.

2021 Lineup
June 25, 2021 (6:30pm-8:00pm)
Fort Stevens Remembered
The first program will explore the fate of the capital forts after the guns fell silent in 1865 with a specific focus on the memorialization and preservation of Fort Stevens in the decades after the Civil War, including the role of Elizabeth Proctor Thomas, the African American woman who owned the property where the fort was constructed during the Civil War.

Meet NPS staff at Fort Stevens Park.
Address: 6001 13th St NW, Washington, DC 20011


July 9, 2021 (6:00pm-8:00pm)
Washington DC at War: Fort Stevens and Battleground National Cemetery Luminary
Join the National Park Service (NPS) for History at Sunset to commemorate the 157th Battle of Fort Stevens. The special program includes a guided interpretive presentation and walk from Fort Stevens Park to Battleground National Cemetery, and will conclude with a special candlelight luminary to honor the United States Army soldiers who died in defense of the capital on July 11-12, 1864.
The Civil War Defenses of Washington (CWDW) will guide visitors from Fort Stevens to Battleground National Cemetery along the sidewalks of Georgia Avenue, a distance of 1/2 mile. NPS staff will safely escort visitors along the route. The program concludes at the cemetery. NPS staff will guide visitors back to Fort Stevens.
Limited street parking is available at Fort Stevens Park and at Battleground National Cemetery. Visitors should wear comfortable shoes and bring water.
The program begins at 6:00 pm at Fort Stevens Park. Participants are advised to arrive at least 30 minutes prior to the start of the program.

Meet NPS staff at Fort Stevens Park.
Address: 6001 13th St NW, Washington, DC 20011

August 27, 2021 (7:00pm-8:30pm)
Lincoln's Legacy: President Abraham Lincoln in War & Peace

Join the National Park Service (NPS) for the final History at Sunset of Summer 2021 at the Lincoln Memorial.
The program explores President Abraham Lincoln's wartime experience as commander-in-chief in Washington DC beginning in 1861 to commemorate the Civil War 160th. It will also detail Lincoln's legacy, especially the memorialization of the 16th President of the United States in the decades after the Civil War.

The program is free and open to the public, and begins at 7:00pm. Visitors are advised to arrive 15 minutes prior to the start.

Meet NPS staff at the steps of the Lincoln Memorial near the Reflection Pool.
Address: 2 Lincoln Memorial Cir NW, Washington, DC 20002

For additional information or questions concerning the programs, please visit the website calendar https://www.nps.gov/cwdw/planyourvisit/calendar.htm, the CWDW Facebook page https://www.facebook.com/cwdwnps/ or you can send us an email