Then and Now Photos
These Then-And-Now pictures bring the Civil War Defenses of Washington back to life. The pictures bring together some of the more unforgettable pictures of the earthern forficiations with modern versions taken from the same location as the originals.

By 1865, Washington DC was one of the most heavily fortified cities in the world. 68 forts and 93 batteries armed with over 800 cannons protected the Federal capital. In the aftermath of the Civil War, most of the defenses were destroyed as peace, prosperity, and urban sprawl altered the landscape. The National Park Service manages 17 of the original sites. Many of the original earthworks are overgrown with invasive plants and trees making them difficult to view and experience. This is our attempt to look back through the windows of time.
Please be patient while the page loads.
Click and drag the center circle on each picture back and forth to compare the Then and Now images.
Fort Stevens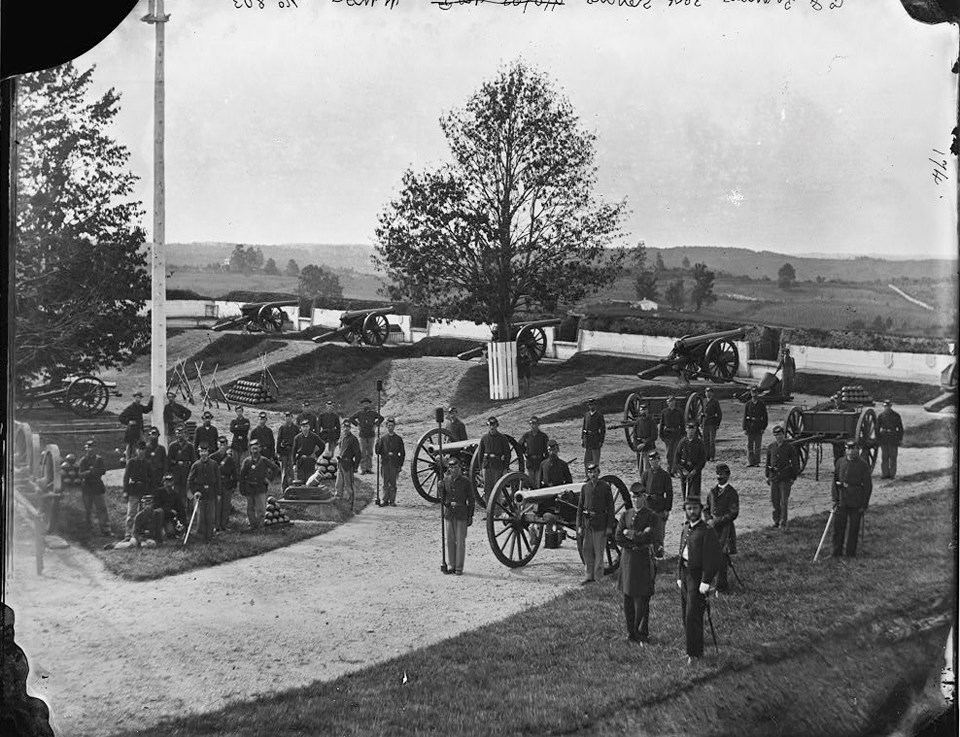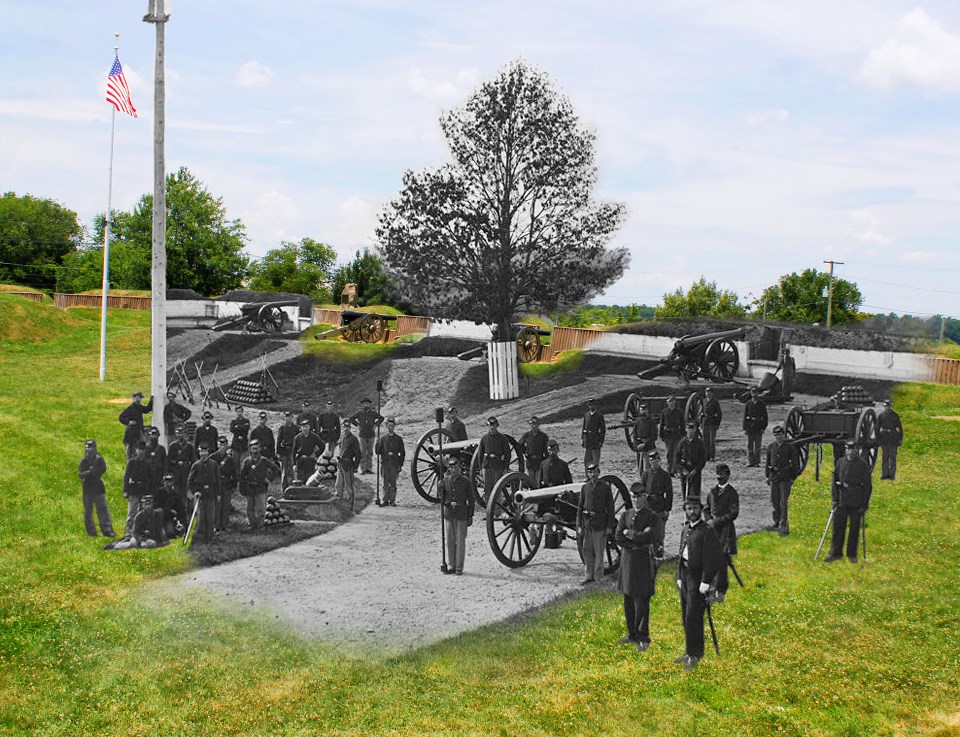 Left image
3rd Massachusetts Heavy Artillery posing for an image at Fort Stevens in 1865 during the Civil War.
Credit: Library of Congress
Right image
Historic photograph of Fort Stevens overlaid on current photograph at Fort Stevens Park. Portions of fort's northern section was reconstructed by the Civilian Conservation Corps in 1937-38.
Credit: (NPS)
Fort Stevens - Elizabeth Thomas and Civil War Veterans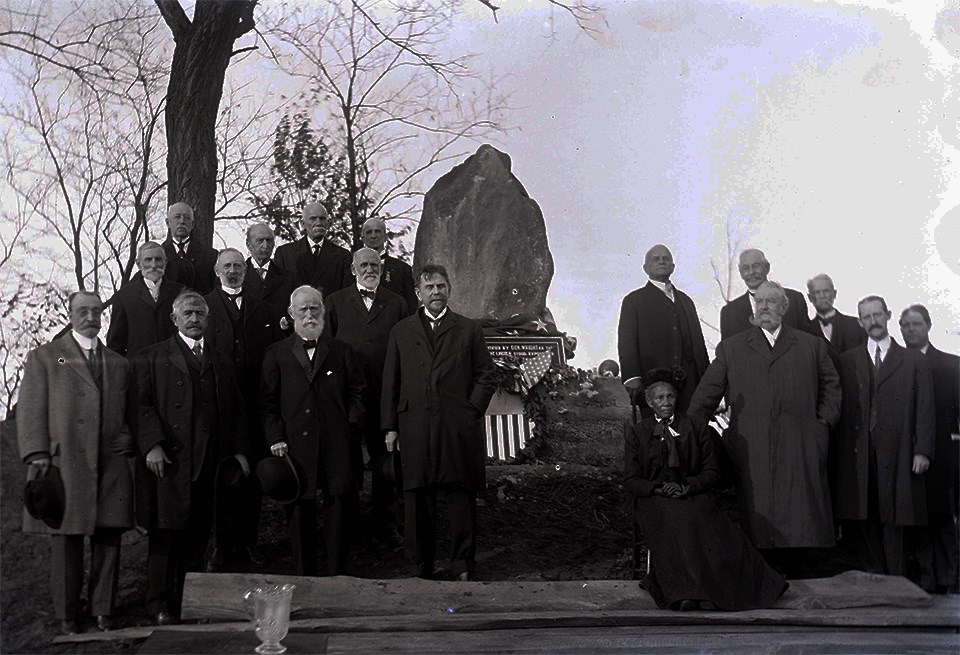 Left image
Elizabeth Proctor Thomas, seated, and Civil War veterans of the Battle of Fort Stevens at the dedication of the stone monument marking the spot where President Abraham Lincoln was under enemy fire at the Battle of Fort Stevens on July 12, 1864.
Credit: Library of Congress (Image by Willard R. Ross).
Right image
Fort Stevens stone monument marking the spot where President Abraham Lincoln was under fire during the Battle of Fort Stevens today.
Credit: (NPS)
Fort Totten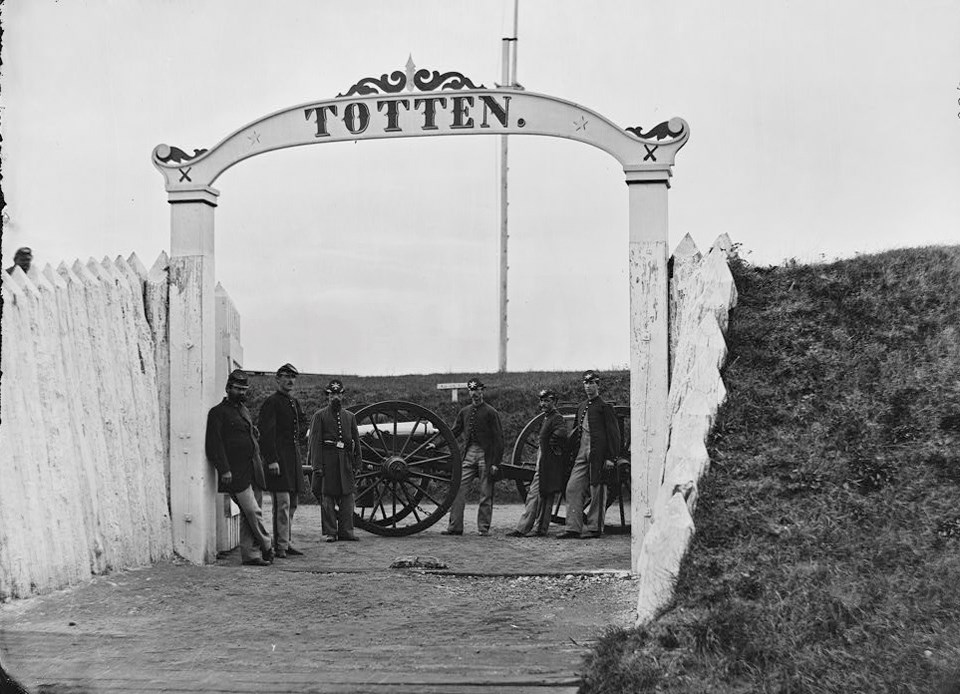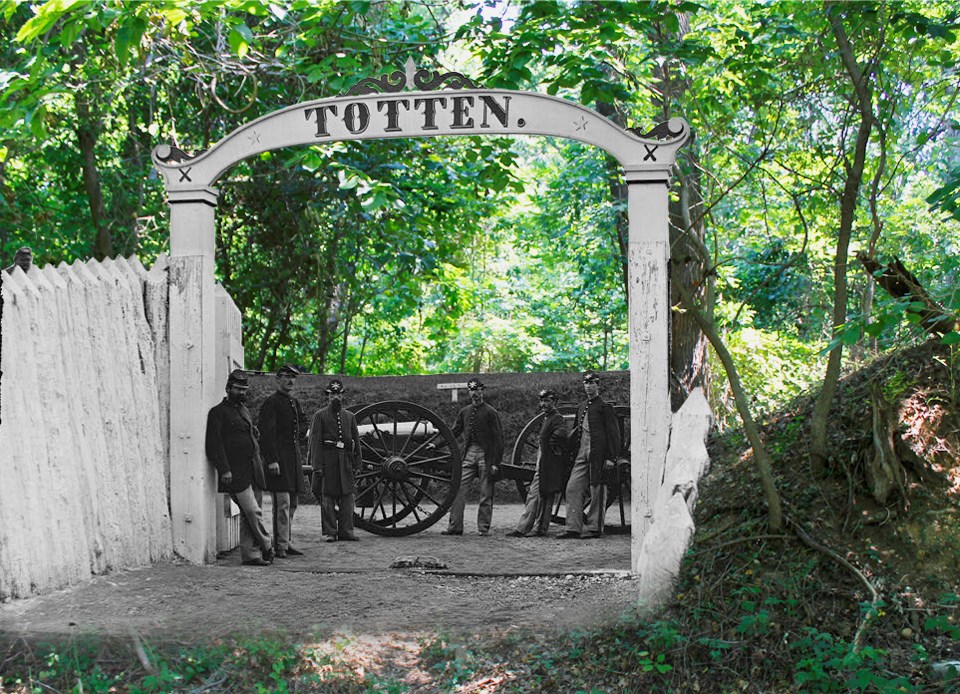 Left image
Sergeants of the 3rd Massachusetts Heavy Artillery at Fort Totten's sallyport (rear-entrance) during the Civil War.
Credit: Library of Congress
Right image
Historic photograph of Fort Totten's sallyport (rear-entrance) superimposed on a present day image of the fort. Notice the considerable deterioration of the fort's earthen walls earthen over the years.
Credit: (NPS)
Fort Totten - Cannon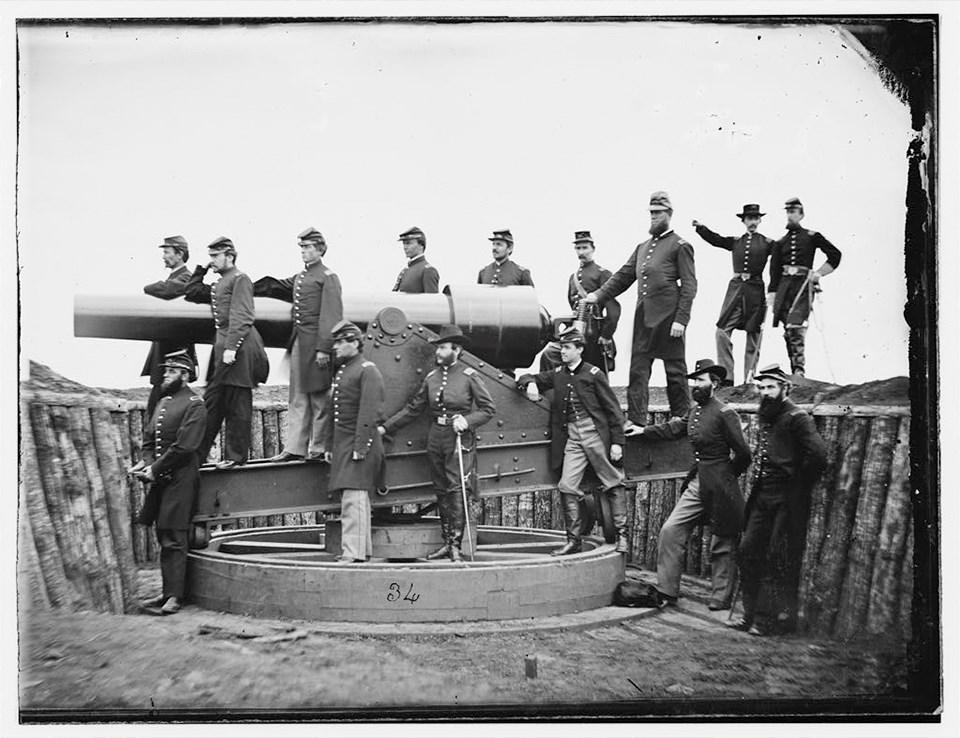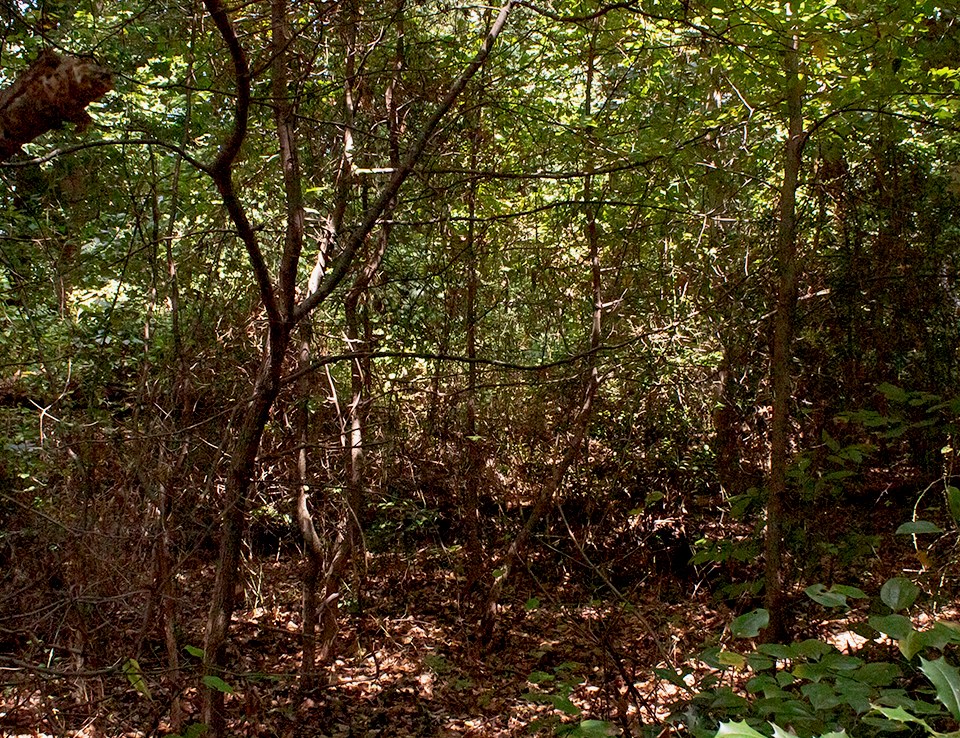 Left image
Officers of the 3rd Massachusetts Heavy Artillery posing with Fort Totten's 100-pounder Parrott rifle during the Civil War.
Credit: Library of Congress
Right image
Approximate location where Fort Totten's 100-pounder Parrott rile was located. Today, the fort is overgrown was trees, brush, and invasive plants.
Credit: (NPS)
Fort Carroll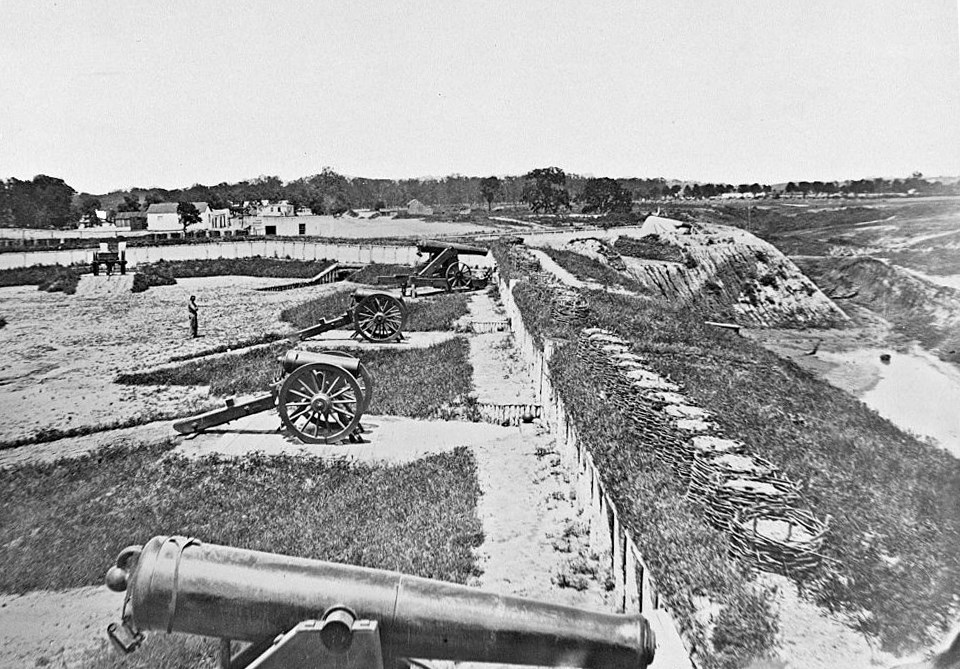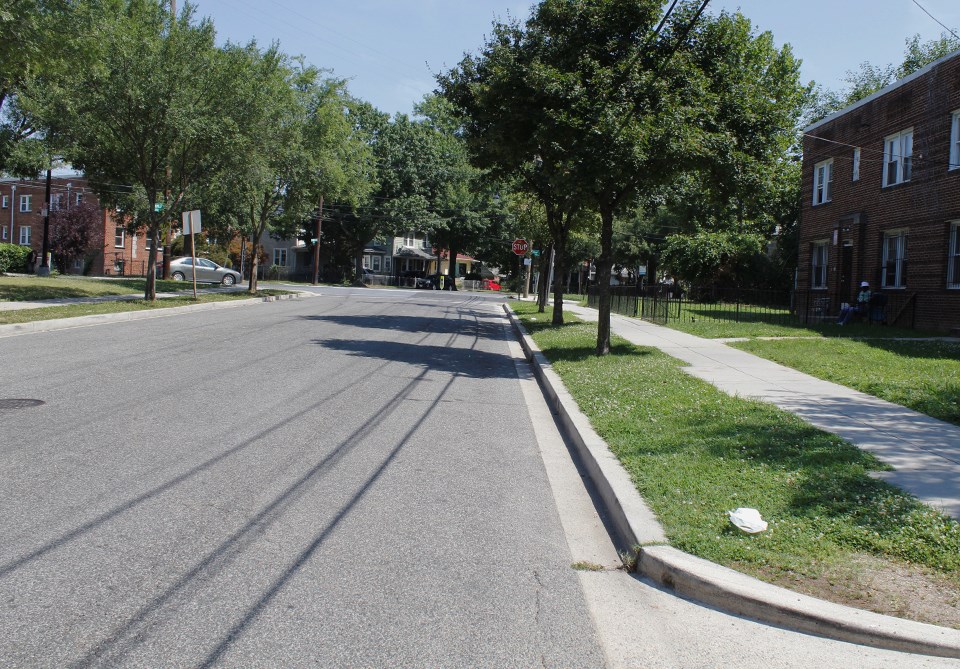 Left image
Fort Carroll's northeast section during the Civil War.
Credit: Library of Congress
Right image
Fort Carroll today. The modern photograph of Fort Carroll was taken at the intersection of Martin Luther King Jr. Ave SE and 1st Street SE, the approximate location of the fort's northeast section.
Credit: (NPS)
Fort Totten - Outer Works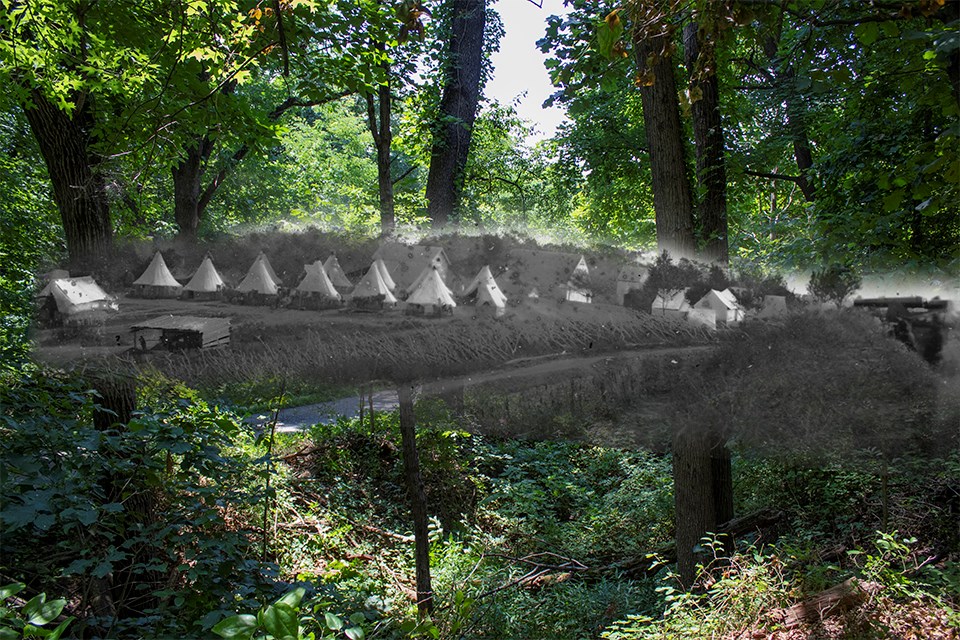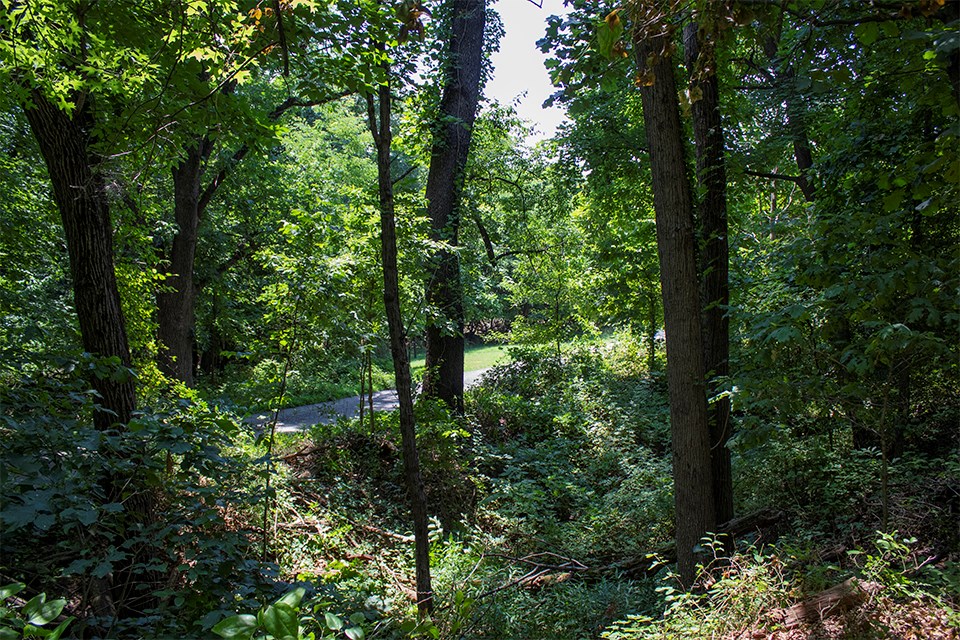 Left image
An historic photograph of Fort Totten's southeast section overlaid on a current condition photograph.
Credit: Library of Congress
Right image
Fort Totten's southeast section, including tents and George Thomas Property, in the background.
Credit: (NPS)
Last updated: September 1, 2019