Fort Ricketts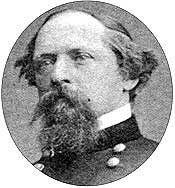 Fort Ricketts was constructed to protect the Maryland or eastern end of the two bridges crossing the Anacostia (at the Navy Yard and two and a half miles upstream at Benning's Bridge) and to occupy the heights above the Navy Yard and Washington Arsenal. Fort Ricketts was constructed after the Battle of First Manassas, when it was determined that the fortification of the entire city would be necessary. At this time, the construction of Fort Ricketts and seven other works began in order to fortify a six mile area from a narrow and contorted ridge between Oxon Run to the south and the District of Columbia boundary on the north. Fort Ricketts, in particular, was built to sweep a ravine in front of Fort Stanton that it could not cover.
Fort Ricketts was a small fort with a perimeter of 123 yards equipped with four guns requiring a garrison of 206 men (42 artillery and 164 infantry).
In September 1865, advertisements were placed in Washington, Baltimore, and Alexandria newspapers, calling for sealed bids on the abatis, timber, lumber, and other materials within the listed forts. Among these was Fort Ricketts. The four government buildings at Ricketts--an 18 by 22 foot officers quarters, a barracks measuring 20 by 50 feet, the 16 by 50 foot mess hall, and a long guard house--were also sold.
Last updated: April 10, 2015