Fishing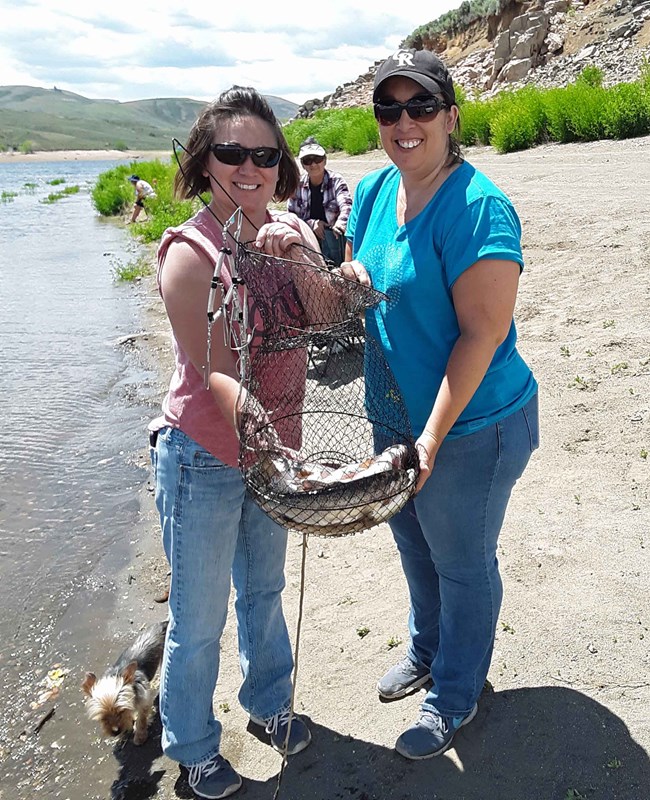 Curecanti Fishing Report - August 21, 2022
Gunnison River
– The Gunnison is holding up nicely and fishing well. The flow is pretty steady and there is a pretty good Mayfly hatch still going on. The monsoonal rains are helping to keep temperatures down. Fish are running a little smaller but are willing. Hard to find solitude, though, as lots of folks are wading in or floating down the river. Still seeing some early salmon in the river and they are fair game until September 1
st
. (
Thanks to Gene Taylor's crew for the tips)
Shore
- Trout fishing for Browns and Rainbows is decent, as long as you get out there early. North Willow is always a good bet as is Dry Creek (until the swimmers show up). As was the case last week, the riverbank where the Gunnison empties into Iola Basin is producing fish as well.
Boats
– Fishing is respectable. The major effort for Kokanee seems to be in Cebolla but the best bite seems to still come well after noon. (which, of course, is when our monsoonal thunderstorms seem to roll in…) Browns and Rainbow are being taken regularly but you need to go a little deeper mid-day. Out at Sapinero, the Rainbow are saving many a trip and are best over towards the mouth of Soap Creek. Mackinaw are still on strike. Perch in Iola are available in some numbers – spoke with a family that was cleaning a dozen decent fish at the Stevens Creek cleaning station. Find cover, find Perch…Overall, the fishing is good.
Another reminder
– On the weekends we are seeing a lot of paddleboards, kayaks and other low-riding craft out on the water. Please keep an eye out for them, especially at cruise, and give them some room.
(Thanks to the NPS and Colorado ANS crews for all the help)
GOLD MEDAL & WILD TROUT WATERS - EAST PORTAL
The Gunnison River from 200 yards downstream of Crystal Dam all the way through Black Canyon of the Gunnison National Park to the North Fork is designated Gold Medal & Wild Trout Water. This designation is given to the lakes and streams of Colorado that offer the greatest potentential for trophy trout fishing. Special regulations exist:
Use artificial flies or lures only. NO BAIT.
ALL Rainbow trout are CATCH AND RELEASE.
Limits for brown trout: Daily bag: 4, Possession: 8.
A Colorado fishing license is required.
FISHING IS PROHIBITED IN THESE AREAS:
From Blue Mesa Dam downstream 225 yards.
From Morrow Point Dam downstream 130 yards.
From Crystal Dam downstream 200 yards.
RULES AND REGULATIONS
Colorado State fishing regulations apply within Curecanti National Recreation Area.
A valid Colorado fishing license is required for people 16 and older. Kids under 16 do not need a license and can take full bag and possession limits.
All fish that are not kept as part of your bag limit must be returned to the water immediately.
Check the Colorado State Fishing Regulations for any special restrictions or closures that may be in effect, especially during the rainbow trout spawn.
---
---
ICE FISHING
The Iola Basin of Blue Mesa Reservoir offers the best ice fishing conditions. Anglers must have a valid Colorado State fishing license and obey bag and possession limits.
Ice fishing shelters must be removed each day.
Maximum hole size is 10" diameter or 10" on any side. Check ice conditions before traveling on ice.
On the frozen surface of Blue Mesa Reservoir, vehicles may not exceed 1200 lbs.

---
KOKANEE SALMON AND LAKE TROUT IN BLUE MESA
Blue Mesa Reservoir provides excellent angling opportunities and supplies a large number of the eggs needed to supply hatcheries and sustain Kokanee populations in Blue Mesa, other reservoirs and lakes in the state. Research indicates that a large Lake Trout population in Blue Mesa Reservoir is decreasing Kokanee Salmon fishing and egg production. For more information about this current issue, please visit the Colorado Parks and Wildlife website.
Last updated: August 22, 2022