Evening Programs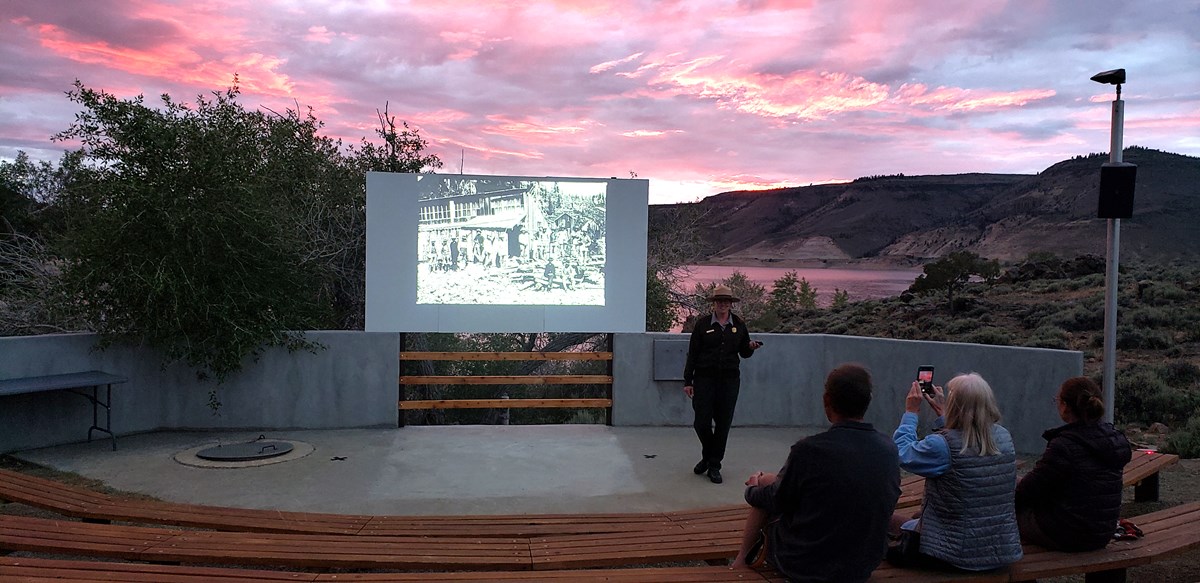 Explore Curecanti wildlife, history, resources, cultures and more at this illustrated program with a park ranger. Evening programs are presented nightly from Memorial Day to Labor Day.
Meet at the Elk Creek campground amphitheater at 8:30 pm (June and July) or 8 pm (August and September). For program descriptions and schedules, see below.
Questions? Drop by the Elk Creek Visitor Center, call us at 970.641.2337 x205 or email us.
Elk Creek Campground Evening Program Topics - Summer, 2022
Story Time: Ya-Go-Vitch
Join Ranger Troy Hunt as he introduces you to one of the most misunderstood animals in North America. A revered character in Native American mythology and featured in American popular culture, yet it was hunted with impunity through the 20th century. Children love it, ranchers and farmers hate it, and despite our best and worst efforts, it continues to thrive. Come learn what this amazing animal is and hear stories both ancient and modern which illustrate this fascinating character of the American West.

Bats!
Comprised of almost 1400 species, bats (Chiroptera) make up almost 20% of all mammals. They are found worldwide with the exception of the polar regions and one or more species lives (and works) in your neighborhood. Find out why that is a very good thing, indeed.

Connections!
The very first national park anywhere in the world was established in the United States in 1872. Explore how a cash-strapped emperor, a new mom, a pair of cousins from New York along with a cast of thousands, made it happen.

Gunnison Valley Observatory Night Ranger Program
Join a ranger for an evening astronomy program at the Gunnison Valley Observatory. Learn about the moon, planets, and deep-sky objects visible in our clear, dark skies. Every Friday night during the summer season, a Curecanti Ranger will give a brief presentation followed by telescopic viewing of objects with GVO's telescopes. GVO is located west of Gunnison south of US Highway 50. Call the Elk Creek Visitor Center at 970-641-2337 or visit www.gunnisonvalleyobservatory.com for directions or more information. The Observatory opens at sunset; programs start at 8:50 p.m. (weather dependent)

I'm a Believer
Join ranger Troy Hunt to learn about the second most adept mammal at altering its environment. Once upon a time there were approximately 400 million of these animals in North America. By 1900, there were roughly 100,000 left. Come learn about the impacts, decline, and gradual return of this keystone species in North America.

The Green Fire
Explore the history and mission of the National Park Service as revealed through animal stories. Join park ranger Matt Johnson in discovering what bears, eagles, wolves, salmon, bison and other animals reveal about the agency that manages America's best idea; its national parks.

What's All The Fuss About Endangered Species?
What are endangered species and why are they important? Learn the answers to these questions as well as how and what we are doing to protect and prevent extinction of some of our most iconic or obscure animals and plants.

Greatest of the Wild Hunters
Mountain Lions are elusive, solitary hunters that can bring down prey larger and faster than themselves. These powerful animals are considered top predators yet face many challenges in their struggle for survival. Join Ranger Laurie to learn how they manage natural and human caused obstacles in order to remain a viable part of the landscape.

The Rabbit in the Moon
Stories about animals from around the world connect us to the celestial wonders of the universe. Join park ranger Matt Johnson in discovering what wolverines, wolves, rabbits, and other critters reveal about the stars and about us.
Last updated: September 7, 2022