Evening Programs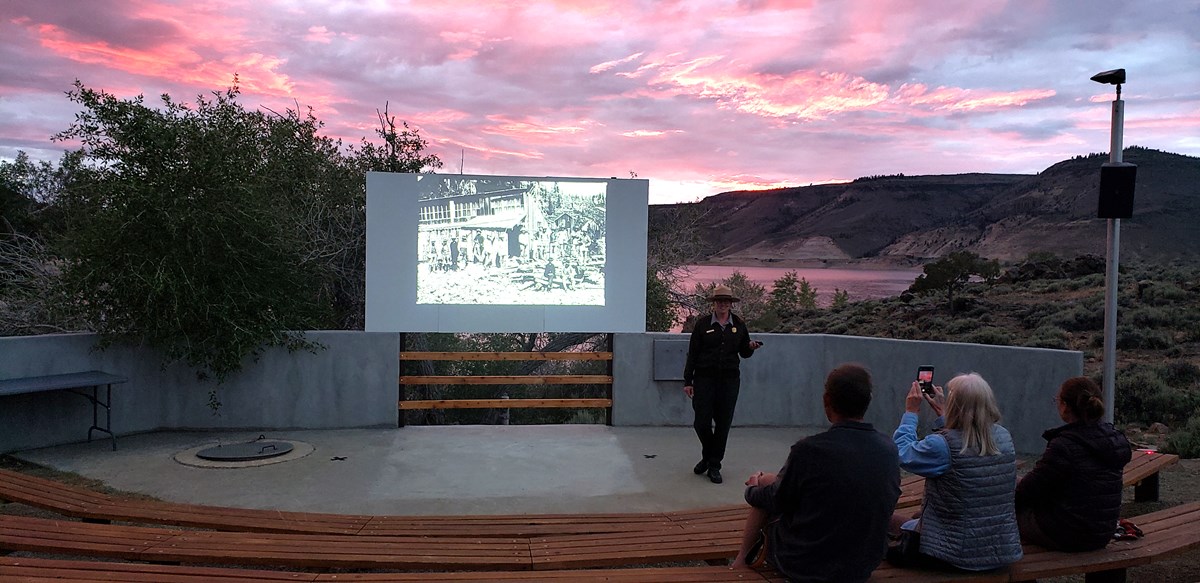 Explore Curecanti wildlife, history, resources, cultures and more at this illustrated program with a park ranger. Evening programs are presented nightly from Memorial Day to Labor Day.
Meet at the Elk Creek campground amphitheater at 8:30 pm (June and July) or 8 pm (August and September). For program descriptions and schedules, see below.
Questions? Drop by the Elk Creek Visitor Center, call us at 970.641.2337 x205 or email us.
Elk Creek Campground Evening Program Topics - Summer, 2021
Dinosaurs: Legends of the Land
Here be dragons… The legendary dinosaurs of the ancient world live on in humankind's imagination. Dinosaur fossils found at Curecanti offer us a sense of place, time, and curiosity. Before this was the Ute Tribe's home, the rancher's livelihood, a National Park Service site, or your favorite place to camp— it was an ancient realm. A land full of fantastic beasts and timeless rivalries. Our dinosaurs were adventurers, each with a story of their own! Join ranger AJ and dive into prehistoric Curecanti to talk about these characters lives. What did they leave behind for the intrepid mind? 
The Green Fire
Explore the history and mission of the National Park Service as revealed through animal stories. Join park ranger Matt Johnson in discovering what bears, eagles, wolves, salmon, bison and other animals reveal about the agency that manages America's best idea; its national parks.
Gunnison Valley Observatory Night Ranger Program
Join a ranger for an evening astronomy program at the Gunnison Valley Observatory. Learn about the moon, planets, and deep-sky objects visible in our clear, dark skies. Every Friday night during the summer season, a Curecanti Ranger will give a brief presentation followed
by telescopic viewing of objects with GVO's telescopes. GVO is located west of Gunnison south of US Highway 50. Call the Elk Creek Visitor Center at 970-641-2337 or visit www.gunnisonvalleyobservatory.com for directions or more information.
Observatory opens at sunset; programs start at 8:50 p.m. (weather dependent)
If Cottonwoods Could Talk
Do cottonwoods communicate with each other or with the world around them? Can they tell stories or listen to each other? If so, where are their ears? What if there was a whole world of communication happening right under our feet and over our heads that we never thought was possible? Join Ranger Lisa in discovering what a conversation with a cottonwood might entail and learn how to listen to the plants around us.
Women of the Wild West
The Wild West was a wild place for men, women, and their children but we don't hear much about the women or children that settled the West. Three very different women were here in 1881 how are they connected, how did they get here and why? Join Ranger Lisa and let's start to tell their stories by discovering Women of Wild West.
Story Time: Ya-Go-Vitch
Join Ranger Troy Hunt as he introduces you to one of the most misunderstood animals in North America. A revered character in Native American mythology and featured in American popular culture, yet it was hunted with impunity through the 20th century. Children love it, ranchers and farmers hate it, and despite our best and worst efforts, it continues to thrive. Come learn what this amazing animal is and hear stories both ancient and modern which illustrate this fascinating character of the American West.
The Lure of Fishing
What did you catch today? Was it the same thing that anglers caught around the turn of the century? Where did the fish come from? Are they native or introduced? What did you catch today? Was it the same thing that anglers caught around the turn of the century? Where did the fish come from? Are they native or introduced?
Pluto: The Lost Planet
"A truth can exist for decades and in a moment vanish. Just ask Pluto."― R.J. Intindola
From planet to dwarf planet Pluto has enthralled and confounded us since its discovery in 1930. Aptly named for the Greek god of the underworld, this celestial being sits on the outer reaches of our solar system in a cold, dark, and icy domain. What knowledge can we gleam from such an alien world? In the vastness of space, how much can we ever really know? Join Ranger AJ to hear Pluto's story and grapple with the unknown under the night sky of Curecanti.
Mysterious Mountain Lions
Rarely seen and difficult to study, mountain lions are full of mystery. Researchers use creative methods to gather clues to understand this powerful animal. Bring your detective skills to discover the magic of mountain lions with Ranger Kelly!
Weavers & Deceivers
"Who am I? You sure you want to know? The story of my life is not for the faint of heart. If somebody said it was a happy little tale, if somebody told you I was just your average ordinary guy, not a care in the world, somebody lied." – Spiderman. For time immemorial humans have been enthralled by spiders. Fear, fascination, admiration, and horror have all described our feelings about spiders throughout time and across cultures. But do we really know who they are? These eight-legged creatures of the night have been around for 380 million years. That is a long time to make a name for yourself. From indigenous creation stories to B-roll horror movies—humanity has always kept a close eye on our many-eyed cohabitants. The world, and Curecanti, wouldn't be the same without your favorite (or least favorite) arachnids. Join ranger AJ in learning more about spiders' story- it may be more complicated than you think!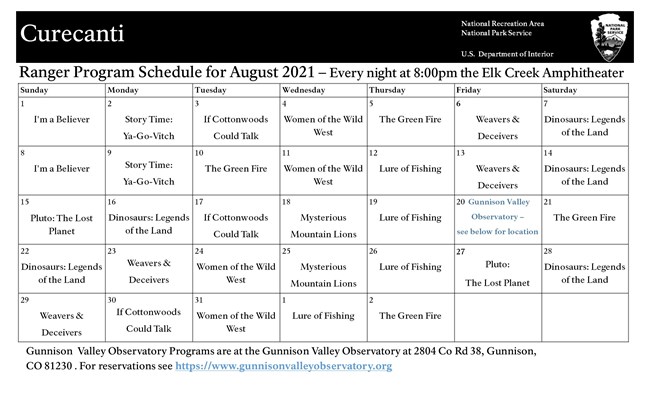 August evening program calendar at Elk Creek campground amphitheater.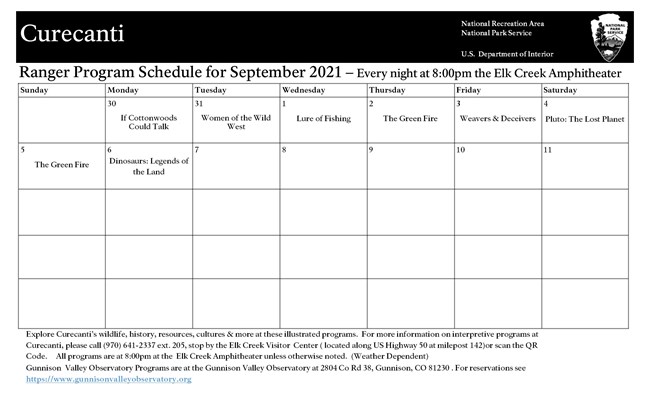 September evening program calendar at Elk Creek campground amphitheater.
Last updated: August 30, 2021