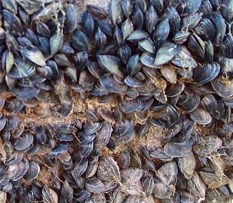 WHAT ARE ZEBRA & QUAGGA MUSSELS?
According to the Colorado Department of Natural Resources, Division of Wildlife, zebra and quagga mussels are defined as freshwater bivalve mollusks – animals with two shells. They are relatives of clams and oysters, and it is very difficult for a non-expert to tell the two species apart. The shell of both mussels alternates between a yellowish and darker brown, often forming stripes. They range in size from microscopic up to two inches long. Unlike native North American freshwater mussels, which burrow in soft sediment, adult zebra and quagga mussels can attach via tiny threads – byssal threads – to hard surfaces, such as boats.
Both zebra and quagga mussels can survive cold waters, but need waters above 48 degrees F to reproduce. Zebra mussels are native to the Black and Caspian Seas, while quaggas are native to the Dnieper River drainage in the Ukraine. Both species were discovered in the Great Lakes in the late 1980's, when they were discharged in ballast water of ocean-going ships. They "hitched rides" to other waters in the United States on boats, trailers and equipment people transport from place to place. Until two years ago, these mussels had not spread west of the 100th Meridian. The first confirmed sample in Colorado was found in Lake Pueblo in January of 2008. Mussel larvae were positively identified in several lakes in July of 2008 in Grand County, including Grand Lake, Grandby, Shadow Mountain and Willow Creek. In October of 2009, mussel larvae were also confirmed in Jumbo reservoir in Logan County and Tarryall Reservoir in Park County. There is no way to determine when and where mussels first entered the state of Colorado.