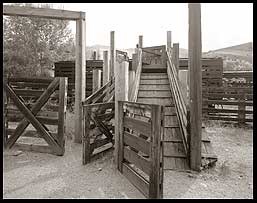 Cimarron, Colorado, is located 20 miles east of Montrose on U.S. Highway 50. Today it is a small, quiet community providing visitor access to Morrow Point Dam, fishing along Cimarron Creek, and boating on Crystal Reservoir. It can also provide a glimpse into our past.
EARLY AREA HISTORY
Our knowledge of the human history of the Cimarron area prior to the 1850s is sketchy. The Tabaquache Utes may have moved through the area on their journeys between the Gunnison area east of Cimarron where they spent summers, and their winter destination, the Uncompahgre Valley to the west. In 1853, explorer John W. Gunnison's party passed through the area, searching for a possible transcontinental railroad route. The explorers were discouraged by their demanding traverse of the Lake Fork of the Gunnison River canyon to the east. They then veered over Blue Mesa and eventually made their way west, crossing Cimarron Creek and climbing over Cerro Summit. Captain Gunnison proclaimed that this rugged country was totally unsuitable for a railroad and his sentiments were echoed by other explorers who followed.
As valuable mineral deposits were discovered on Colorado's western slope, the need for better transportation routes was recognized. One of the most famous road builders of his day was Otto Mears, known as the "Pathfinder of the San Juans". Mears constructed the Lake Fork and Ouray Toll Road. A branch of this road ran from the confluence of Cimarron Creek and the Little Cimarron River to a local cattle outfit, Cline's Ranch. Captain W. M. Cline owned about 480 acres in the vicinity of what was to become Cimarron. A friend of Chief Ouray of the Utes, Cline settled here in the 1870s, raising grain and cattle. Cline was joined in the livestock business by two other firms whose herd totalled approximately 5400 head of cattle, and this area eventually became popular for sheep-raising as well.
ENTER, THE RAILROAD
By the early 1880s, General William Jackson Palmer's railroad, the Denver and Rio Grande, was on its way west across Colorado. Palmer eagerly accepted the challenge of constructing a railroad through the Black Canyon of the Gunnison, a feat that was previously considered impossible. In August of 1882, the first D&RG train rolled out of the canyon and into the construction camp at the end of the tracks near Cline's Ranch on Cimarron Creek. During the survey for the railroad, the workers had discussed what the camp at the end of the line ought to be called. Some were reminded of the hills around Cimarron, New Mexico, and the camp was dubbed "Cimarron".