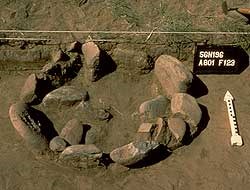 For at least the last 10,000 years humans have been passing through what is now Curecanti National Recreation Area. From years of archeological surveys, we now have a better idea of what those early Native Americans did while they were in the Upper Gunnison River Basin, how over thousands of years their hunting and gathering techniques might have changed, and what they ate, and how they cooked. There are still lots of unanswered questions. We must continue to leave all archeological clues to the trained experts so they may discover the many hidden secrets still remaining about our earliest visitors to Curecanti. So please, if you find any kind of evidence of earlier people, such as pottery pieces, or rocks that look like arrowheads, LOOK BUT DON'T TOUCH! It is against federal law to remove any artifacts from the exact spot they are discovered.
How Archeologists Work
The earliest archeological work at Curecanti was in the 1930s but little written record remains. When the Blue Mesa, Morrow Point and Crystal dams were approved in the early 1960s, archeologist Robert H. Lister was sent to find what might be impacted by the new reservoirs. In a very quick search, he found ten archeological sites but since they were mostly concentrated amounts of chipped rocks - called lithic scatters, Lister did not bother to explore anymore. Lister also recorded a few petroglyphs, or drawings carved into rock surfaces that are now under the deep waters of Blue Mesa Reservoir.