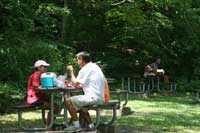 There are no dining facilities in the park. However, resaurants are located in Middlesboro, Kentucky; Cumberland Gap, Tennessee; and Harrogate, Tennessee; and Tazewell, Tennessee. Dining facilities can also be found at Kentucky's Pine Mountain State Park approximately 13 miles to the north.
There are a number of picnic areas in the park. Most have shaded picnic tables, water fountains, and trash containers. Some of the picnic areas also have covered shelters which can accomodate large groups.
These shelters can be reserved up to 90 days in advance by calling (606) 248-2817. A $30.00 reservation fee does apply.