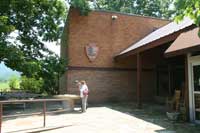 The park visitor center is open daily from 8:00 am to 5:00 pm. The visitor center is closed on Christmas Day.
Phone (606) 248-2817
Location
The Cumberland Gap National Historical Park Visitor Center is located on U.S. Highway 25E just south of Middlesboro, Kentucky.
The visitor center houses a museum with hands-on exhibits, book sales outlet, an auditorium featuring two films, and Cumberland Crafts, a member of the Southern Highland Craft Guild, which showcases handmade crafts from the region.