Traffic & Travel Tips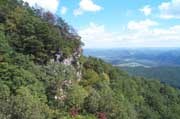 Skyland Road and the Pinnacle Overlook
Leaving the visitor center, park visitors can drive the winding, four-mile-long Skyland Road up the mountain to the Pinnacle Overlook (elevation 2,440 feet) for a spectacular view into Kentucky, Virginia, and Tennessee.
Skyland Road is periodically closed during the winter due to inclement weather.
The road is closed to vehicles 20 feet or longer in length. When park staff is available, shuttles to the Overlook can be arranged; cost is $5.00 per person.
Inquiries can be made at the park visitor center or by calling (606)248-2817.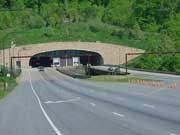 Cumberland Gap Tunnel
The Cumberland Gap Tunnel is approximately .9 mile and is located within the park on Highway 25E. Recreational vehicles, camp trailers, and campers are permitted although LP gas should be turned off before going through the tunnel.
Traffic is often stopped for short periods of time while certain types of commercial vehicles are escorted through. Delay times are usually 5 minutes or less.


Last updated: April 14, 2015