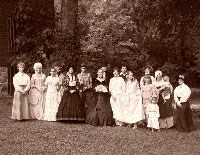 From Colonial times to the late 1800's, fashion and style have taken numerous twists and turns, and have helped create our perceptions of life long ago.
During this unique event, a pageant of history will unfold, as local models wearing fashions from the ages sashay through the flower laden tables decorating the oak covered veranda.

Mysteries will fade away and myths will be dispelled, as these visions of fashion glide along their path, showcasing historic apparel such as pudding caps and petticoats, corsets and crinolines.
Participants in this very special "Mother's Day High Tea" will be treated to a visual feast of bygone eras, as well as, a virtual feast as they sip tea and nibble on sweet and dainty delicacies. Join us on May 10th, 2008 at 3:00 p.m. Come in high fashion, if you so wish or "as you are"!
Reservations are recommended.
For more information please call (606) 248-2817.