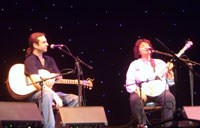 Sunday, March 14
Tracing the Migration of Songs Between Scotland and Ireland to North America
As Scots and Ulster Scots emigrated to America, they carried with them a rich oral tradition of song and ballad singing.
Join musician Sara Grey and her son Kieron Means as they trace the migration of these songs and share the impacts which they had on Appalachian music. This renowned mother/son team will expect you to enthusiastically chime in on choruses and refrains!
Visitor center auditorium at 2:00 PM.
For more information please call the park visitor center at (606) 248-2817.