Pets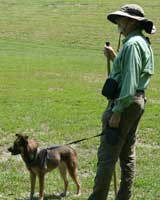 Cumberland Gap National Historical Park is a pet friendly park!
Pets are welcome but must be on a leash or in a carrier at all times while in the park.
Horses are allowed on designated trails and at the Hensley Camp, White Rocks, and Martin's Fork backcountry campsites.

For more information call (606) 248-2817.


Last updated: April 14, 2015